"Until we understand the real differences in what compels our behavior, especially under stress, we'll keep bringing out the worst in each other. And never experience the real beauty of both men and women." – Alison Armstrong
Wellness + Wisdom Episode 364
Author, Educator, Founder of PAX Programs, and Creator of the widely acclaimed Understanding Men and Understanding Women transformational online series, Alison Armstrong, unpacks the core differences between women and men, explains The Tunnel concept that we sometimes face on our way to self-actualization, what the hunting-operating mode actually is and why women can find it confusing plus what sex actually means for men and women on both biological and psychological levels.
How can we love one another more? How can we give each other the space, emotional bandwidth, and really just the special care that all of us deserve as men and women?
[click_to_tweet tweet=""Ninety-nine percent of the confusion and frustration between men and women is because we assume we're versions of each other.' – Alison Armstrong of @PaxProgramsInc" quote=""Ninety-nine percent of the confusion and frustration between men and women is because we assume we're versions of each other.' – Alison Armstrong of @PaxProgramsInc"]
---
ION* Gut Health
*Get 15% off of your ION* order with the code JOSH1KS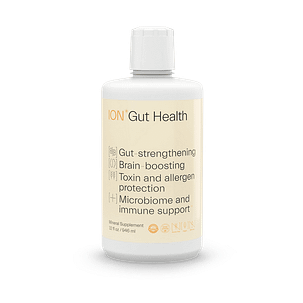 ION*Gut Health is a gut-strengthening, brain-boosting mineral supplement sourced from 60-million-year-old soil that naturally supports microbiome balance. The active ingredient, Terrahydrite®, has been shown to support the integrity of tight junctions in the gut lining, even in the face of damage from toxins such as glyphosate.
ION*Gut Health goes beyond other supplements to support your wellbeing at a foundational level. By laying that foundation with ION*Gut Health, you aren't just supplementing; you're supporting.
Keeping Your Gut Healthy
It's a critical barrier to keep strong so that a vibrant microbiome can flourish. Good health depends entirely on gut health because a lot more than digestion happens in the gut. It's also where proper immune system function begins and the majority of our neurotransmitters, such as serotonin, are created.
Say yes to ION*Gut Health and you are saying yes to optimal gut-brain connectivity and feel-good transmissions, protection from the toxins we face every day in our air, water, and food, immune function, digestive wellness, and supported gluten tolerance.
*Discount code cannot be applied to subscription orders
Listen To Episode 364 As Alison Armstrong
Uncovers:
[1:30] The Core Difference Between Men & Women
Unpacking the core, fundamental difference between men and women including how we lovingly (or unlovingly)

trigger

each other.

Why women search for the answer to know how they can get a man to do something or to stop doing something.

The importance of getting

curious

about why a person does or doesn't do something in the first place.

Topics that come up a lot during Josh's Men's Group including specifically conflict and the

ego

.

Our understanding of

identity

and how it can flex depending on the scenarios we experience every day.

Why we all have an identity that is associated with our gender and ethnicity.

What women think it means to be a woman and why it's so layered for them.

Exploring the ancient

instincts

we have installed within the body.
[17:00] Unpacking The Instincts We Already Have Embodied
Exploring the instincts that have been passed down to us for

generations

that makes us who we are.

Why

hormones

literally shape our perception.

Breaking down why we cannot embody love if we do not

embody

our highest values first.

Why women think that men are doing everything from a position of

power

, that they have that power, and that they are abusing that power.

What women don't realize about men and how much they affect them and how much a man will do to make them happy.

Her advice to men: 95% of a woman being

happy

is up to her, it's not up to you.

Why women don't realize that there's actually so much that men do for them.
[22:00] The Hunting-Operating Mode
Why men and women both take things so personally from their

relationships

with one another.

Unpacking the eras of male-female relationships: emotionally unavailable, unhealthy, and

narcissism

.

Why neither person in a relationship can provide for the other when they are being attacked or have to protect.

The protect mode that men are in right now during

COVID-19

as they seek to keep their loved ones safe.

Why she became interested in studying men: to find out why she kept bringing out the worst in them which turned out to be by attacking them.

The experience she had as a teenager that she would label as

date

-rape.

Her mission to keep men off-balance as much as possible through her intellect, humor, or

sexuality

so that they could not attack her.

Lessons that she had to learn on her own about men including that there is an innocence about them.
[29:00] What Sex Means For Women & Men
Different points of view from both genders on

sex

including their biological and psychological experiences.

The impact that a

pregnancy

can have on a woman compared to a man.

One of the exercises on how women and men view the

safety

that they provide in her Understanding Women course.

Comparing the differences in strength between a man and a woman.

What men and women can both learn from each other instead of making automatic

judgments

.
[31:00] What If You Can't Actually Damage a Human?
[39:30] The Road To Self-Actualization
[46:00] The Ability To Dwell In Love
[57:00] What Would Make It Worth It?
How the male brain changes throughout their

life cycle

including the rewiring during their 50s and 60s.

The identity struggles men go through as they age and begin to decrease their

testosterone levels

.

One of the biggest differences between men and women: what they consider "worth it" during their lifetimes.

How to change your

mindset

on something by not asking, "Is it worth it?" to "What would make it worth it?"

Flipping the script on other questions for women and asking yourself, "How does he love me?" instead of "Does he love me?"
[1:02:00] Exploring 'The Tunnel' & Finding One's Purpose Again
[1:18:00] A Date With Destiny
Power Quotes From The Show
[click_to_tweet tweet=""A person's will is enabled, strengthened, by love. The greater their ability to dwell in love, the more potent their will." – Alison Armstrong of @PaxProgramsInc" quote=""A person's will is enabled, strengthened, by love. The greater their ability to dwell in love, the more potent their will." – Alison Armstrong of @PaxProgramsInc"]
What Women Don't Know About Men
"Women assume that men are doing everything from a position of power and that they're abusing that power. But women don't know how much men experience being at the effect of us, how much men actually do for us, and how much a man will do to make a woman happy. A man is miserable if he can't make a woman happy. If she's not happy, then he thinks that he's not good enough and he takes it extremely personally. Men need to realize that 95% of a woman being happy is up to her; it's not up to them." – Alison Armstrong
The Hierarchy Of Male Instincts
"I have lived through many eras as a woman and having studied men. I have witnessed the era of 'emotionally unavailable men,' 'unhealthy men,' and now we're in the era of narcissists. But we have to hold up now; narcissism is what you get accused of when you have all of your attention on yourself and you don't care about providing for others but that can also be explained by a hierarchy of instincts which goes procreate, protect, and then provide. Neither can a man or woman provide when they experience being under attack nor when they think they have to protect. So in 2020, men are having a difficult time providing for women because they're in protect mode with the threat of COVID-19, our economy, and our wellbeing. If a man is not providing, I tell women, 'Just look around; what is he protecting you from? What is the threat he perceives and what is he protecting you from?" – Alison Armstrong
How We Can Win In Love
"I'm always teaching women, instead of asking, 'Does he love me?' ask 'How does he love me?' Instead of asking, 'Does he support me?' ask 'How does he support me?' You will live a completely different life if you're looking for how the thing you want is happening instead of checking off 'Yes' or 'No.' If we're looking for 'How' then we can see it in a rainbow of expressions instead of 'Does he or doesn't he?' and it also allows us to build on something in the relationship, create awareness for what we love about each other, and let them know how else they can love us in different ways." – Alison Armstrong
Links From Today's Show 
About Alison Armstrong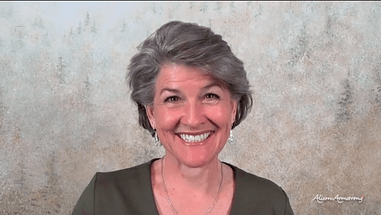 Alison Armstrong, author, educator, and creator of the widely acclaimed "Understanding Men" and "Understanding Women" transformational online series, asks the question: "What if no one is misbehaving — including you?"
She explores the good reasons behind the behavior of men and women such as fundamental differences in the ways we think, act and communicate. She offers simple, partnership-based, solutions to improve our communication and intimacy by honoring ourselves and others. She's known for her insight, sense of humor and ability to articulate the human experience and predicament of gender.
Alison Armstrong's Mission
Alison Armstrong is a best-selling author, sought after speaker, and a master thought leader. She's the founder of PAX Programs, a mission-driven company passionate about transforming the way men and women relate to themselves and each other and the ultimate source for understanding men and women.
Men & the "Worth It" Equation with Alison Armstrong
---