How To Cook For Healthy Hormones: Magdalena Wszelaki
"I learned how to cook because I had to in order to save my life and my sanity." – Magdalena Wszelaki
What if I told you that something as simple as cooking healthier meals at home, changing your skincare routine, and adding self-care practices to your day could save your life? You would make those changes, wouldn't you?
In Wellness + Wisdom episode 215, Holistic Nutrition Coach, Founder of Hormones Balance, and Author of Cooking for Hormone Balance, Magdalena Wszelaki, reveals what steps you can take to heal your gut, why you should avoid major healthcare and home cleaning brands, and why the real healing begins when you address emotional hurt.
Learn how your food, environment, and lifestyle could be the leading cause of your hormone imbalance.
Cooking For Hormone Balance
Get your copy of Cooking for Hormone Balance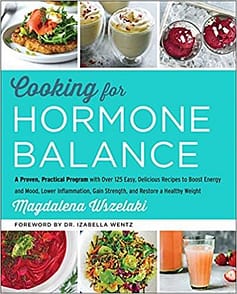 A breakthrough program with more than 125 tempting, nutrient-dense recipes for thyroid conditions, Hashimoto's, adrenal fatigue, menopause, endometriosis, fibroids, breast health, PMS, PCOS, and other hormonal imbalances.
Millions of women suffer from the life-altering, often debilitating symptoms resulting from hormonal imbalances: stubborn weight gain, fatigue, brain fog, depression, insomnia, digestive issues, and more. The good news is that most of these conditions are reversible. Integrative hormone and nutrition expert Magdalena Wszelaki knows this first-hand. Developing hyperthyroidism and then Hashimoto's, adrenal fatigue, and estrogen dominance propelled her to leave a high-pressured advertising career and develop a new way of eating that would repair and keep her hormones working smoothly. Now symptom-free, Magdalena shares her practical, proven knowledge so other women may benefit.
Drawing on current research and the programs she has developed and used to help thousands of women, she offers clear, concise action plans for what to remove and add to our daily diet to regain hormonal balance, including guides for specific conditions and more than 125 easy-to-prepare, flavorful, and anti-inflammatory recipes that are free of gluten, dairy, soy, corn, and nightshades and low in sugar.
Based on twenty hormone-supporting superfoods and twenty hormone-supporting super herbs—with modifications for Paleo, Paleo for Autoimmunity (AIP), anti-Candida, and low-FODMAP diets—these healing recipes include a terrific selection for everyday meals, from Sweet Potato and Sage Pancakes and Honey Glazed Tarragon Chicken to a Decadent Chocolate Cherry Smoothie.
With make-ahead meals, under-thirty-minute recipes, and time-saving tips and techniques, Cooking for Hormone Balance emphasizes minimal effort for maximum results—a comprehensive food-as-medicine approach for tackling hormone imbalance and eating your way to better health.
Hormonal Imbalances That Cause Depression, Anxiety and Mood Swings
Listen To Episode 215 As Magdalena Wszelaki Uncovers:
Her childhood moving around the world because of her father's job and what she learned about healthy eating and lifestyle while living in Asia.
Different symptoms women could be experiencing when they have a hormone imbalance.
The HIC blood sugar levels testing methods that she recommends.
Different diseases and symptoms that can come from the hormone side effects due to prescribed medications such as birth control pills.
Estrogen dominance and why it's one of the easiest hormone imbalances to undo as well as its role in various cancers such as breast and thyroid.
The cleaning products, non-organic food, healthcare products, and other major brands that you want to avoid to prevent estrogen imbalance.
How stress and high levels of cortisol are thieves of our progesterone which is necessary to offset estrogen's worth.
The steps people can do from a nutrition standpoint to help both heal the gut and end their hormone imbalance.
Why supplements or medicine can only cover up the symptoms and aren't the same as changing your nutrition.
The purpose of doing an elimination diet as a first step to eliminate probably inflammatory foods.
Examples of excellent foods that can help heal and aid your gut's health.
Her own story of hormone imbalance and how slowing down and paying attention to what she was eating led her on this journey.
How a combination of her genetics, stress, being given powdered milk over breast milk as a baby, antibiotics and more led to her hyperthyroidism and then Hashimoto's.
The choice she made to move from China to the USA to help improve her health.
How she revamped her diet, skincare, community, and lifestyle to heal herself.
What she does to eat healthy while on-the-go and traveling.
Her thoughts on intermittent fasting for people with a hormone imbalance.
The benefits of eating dinner early and not right before bedtime.
Why the real healing begins when we address emotional hurt.
Her #MeCare self-care awareness campaign and her own practice.
Power Quotes From The Show
"All the major, mainstream brands for skincare or cleaning products are what you want to avoid. You don't want to touch any of that because they're just loaded with chemicals that can contribute to the increase of estrogen. What we eat is equally as important and all of the pesticides and fertilizers that we are eating in non-organic food can also cause a hormone imbalance. Not only that but birth control pills and stress can also affect our hormone levels. When we are stressed, we produce cortisol which steals progesterone in women. Progesterone is so necessary because it's there to offset estrogen's work." – Magdalena Wszelaki
"Surround yourself with simple, yummy recipes that you can pull off in 20 minutes. Batch cooking is another great idea; just go spend a couple of hours on a Sunday cooking up a storm and then you'll be set until Wednesday or Thursday." – Magdalena Wszelaki
"So many women focus on being grounded and want to avoid change. One of my clients was really having a hard time of letting go of her fruit and oatmeal but I asked her to just try it for three days. After that experience, she became the biggest advocate of healthy eating. She realized that in order to change her nights, she had to simply change her breakfast. That helped her get off sleeping pills just from doing nothing else but changing her breakfast." – Magdalena Wszelaki
My Story of Struggles with Hormonal Imbalances
Links From Today's Show
About Magdalena Wszelaki
Cooking for hormone balance. The founder of the popular Hormones Balance online community, holistic nutrition coach, Magdalena Wszelaki knows this firsthand. Developing hyperthyroidism and then Hashimoto's, adrenal fatigue and estrogen dominance propelled her to leave a high-pressured advertising career and develop a new way of eating that would repair and keep her hormones working smoothly.
Now symptom-free, Magdalena shares her practical, proven knowledge so other women may benefit. In Cooking for Hormone Balance, she draws on current research to explain the essential role food plays in keeping our hormones in harmony and offers easy, flavorful recipes to help us eat our way to good health. She also offers clear, concise action plans for what to remove and add to our daily diet to regain hormonal balance, including guides for specific conditions. Armed with real testimonials, clear action plans, and 125 recipes full of hormone-supporting superfoods, COOKING FOR HORMONE BALANCE explains how food plays an essential role in our hormonal health and shows women how to reverse hormone-related conditions