Craig Cooper: Your New Prime
"The message of Your New Prime is about how to get out of complacency in middle age and how to start thriving forward in life. So often we get to our 40s and  50s and we think that this is it and we can't change anything. However, my message is that it doesn't have to be like that. As you age, your focus should be about thriving, not complacency." – Craig Cooper
How can men continue to perform after they've reached their physical peak?
In Wellness + Wisdom episode 166, Author, Venture Capitalist, TV Host, and Advocate for 40+ Men's Health, Craig Cooper, join us to talk about his latest book, Your New Prime. As you listen to Craig, he will teach you how to naturally find your new prime, rekindle your physical relationship with your partner, get healthy and start to thrive.
In this episode, we dive deep into men's health and wellness in order to help them learn how they can continue to perform at their best capacity for life.
Your New Prime By Craig Cooper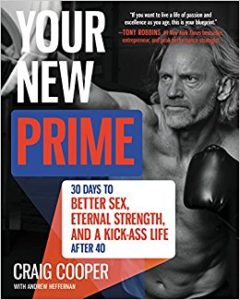 Feel great and perform at your best in the boardroom, weight room, bedroom, and beyond with this indispensable health and wellness guide: Your New Prime debunks current thinking about men's health and shows how every man can continue to operate at his peak at any age.
Getting older may be inevitable, but in Your New Prime, serial entrepreneur and men's health expert, Craig Cooper, shows men that they don't have to accept the "natural" aging process.
Based on the latest scientific research and Cooper's personal experience warding off diabetes, preventing cancer, and naturally increasing his own testosterone, Your New Prime is a comprehensive guide to the questions every man has as he ages. Tailored specifically for the "New Primers," men forty years old and up, the book covers a wide range of vital topics—from improving sexual health and the impact of decreasing testosterone to proper nutrition, preventing memory loss, surviving the "mid-life crisis," and achieving peak physical fitness.
Your New Prime provides an indispensable 30-day program designed to help you lose weight, boost energy, and transform eating habits. Divided into easy-to-navigate sections, the book also contains essential information about how to influence "epigenetic" traits and reverse the effects of aging, while quizzes, audits, charts, tables, and callouts help readers determine and address their specific personal needs.
Practical, honest, and vitally informative, Your New Prime details a lifelong strategy for maximum health—and will help any man perform his best, no matter what his age.
Listen To Episode 166 As Craig Cooper Uncovers:
His multiple health scares and bouts of inflammation growing up and how he didn't allow that to hold him back from living a healthy life.
How he became so passionate about men's health and helping others with their own wellness struggles.
Why prostate cancer shouldn't be considered an "old man's disease."
Why there's not a huge focus on men's health compared to women's health in the news or TV Media in the US in comparison to other countries like Australia.
How to recreate intimacy with your partner and reactivate your physical relationship.
Why pills, gels, and patches that promise to fix libido and raise testosterone levels will end up doing more harm than good in the long end.
How the chemicals in fragrance, deodorant, and shampoos can negatively affect our bodies and lead to disease.
The Porny Dilemma – how the amount of porn that people are watching is affecting their brains and relationships.
How the digital age and online dating is affecting the new generation's relationships and their commitment to other people.
Why having a tribe is so vital as we age towards our 50s and 60s.
How social interactions and connections in the US compare to other countries where there's much more evidence that people have a tribe.
His thoughts on intermittent fasting and how it can help increase testosterone production.
The vital importance of sleep for a consistent and increased amount of testosterone levels as well as weight loss.
How to fast while still keeping up with your caloric intake and maintaining enough muscle mass
The proper way to measure for pre-diabetes and how to test your blood sugar levels.
Why blood sugar is an important indicator for illnesses later on in life such as dementia.
The Morning Syndrome when your body floods your blood with insulin and why you have to wait 45 minutes to an hour after you wake up to measure your insulin levels.
Why he chose to be on the board for the Cognitive Health Institute and why it's so important for him.
Why Alzheimer's is now referred to as Type 3 Diabetes and how healthy, fatty foods are so vital for the brain-gut connection.
How turmeric and the Ketogenic Diet can help us be healthy and ward off disease, illness, and inflammation.
Power Quotes From The Show
"Nothing in this world can take the place of persistence. Talent will not; nothing is more common than unsuccessful men with talent. Genius will not; unrewarded genius is almost a proverb. Education will not; the world is full of educated derelicts. Persistence and determination alone are omnipotent." – Calvin Coolidge
"As we age, our focus on life changes and we strive to stay in the game. Most of our injuries happen from silly accidents like tripping over a shoelace or losing our balance and falling. It's so important that we focus on the ability to put ourselves in a physical condition that allows us to participate in life at a certain level." – Craig Cooper
"We're victims of the media telling us that our low energy, joint pain, and low libido is a natural part of aging that can be fixed with a pill or gel. Fortunately, it doesn't have to be that way. There's a massive amount of lifestyle changes that you can make which can get you back on track again." – Craig Cooper
"Anything that activates better heart health will also activate better sexual health. For nutrition in general, the Mediterranean diet is probably the best diet for that. Too much or too little of anything can be counterproductive. Specifically, the amount of protein, fats, carbohydrates can affect sexual health and testosterone." – Craig Cooper
"The two main naturopathic prescriptions for natural testosterone production are sleep and weight loss. Every single study supports men getting more sleep; at least seven hours every night. If you're ten pounds overweight, you'll get a 10% increase in testosterone once you lose the weight."  – Craig Cooper
Links From Today's Show:
Your New Prime by Craig Cooper
About Craig Cooper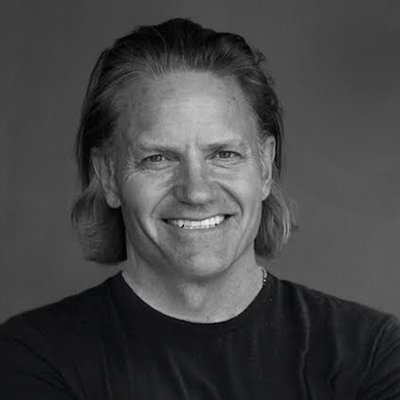 Craig Cooper is a 54-year-old serial entrepreneur, venture capitalist, author, and TV host. He was the co-founder of Boost Mobile (USA), the Managing Director and Head of Venture Capital at Saban Ventures, and a founding Partner in the Softbank Capital Technology Fund. His venture capital funds together have raised over 800M and were early investors in many leading digital media companies including The Huffington Post, Buzzfeed, xAD, Associated Content, and Buddy Media.
He was the co-host of the CNBC outdoor investment show "Adventure Capitalists" and is the Founder of CooperativeHealth, a digital media company focused on men's health. He also recently led the strategic development and restructuring of Lionsgate Entertainment's fitness and wellness media group. He is the Managing Partner of The Action Fund and is a board member of IQ Medical Corporation, which develops therapeutic products for foot and ankle disorders.
He is also on the advisory board of the Cognitive Health Institute which focuses on developing stem cell therapies for Alzheimer's and other cognitive diseases. He is a contributing expert on men's health to The Huffington Post as well as a Special Advisor to ROAR and ROAR Asia Pacific. He is also on the advisory board of Men's Health magazine in both the USA and Australia and is an "Ambassador" for both the global men's health foundation – "Movember" and 2XU performance sportswear. He is also a "brand evangelist" for OuterKnown and The North Face.