"Ask yourself the right questions. Instead of asking yourself this unanswerable question all the time, 'Why them and not me? Why don't I have this? Why didn't I have this?' and using up all of your energy on the idea that life is just unfair ask yourself this: 'Do I want to be a victim all my life and sit around feeling sorry for myself?' Flip the switch and tell yourself, 'Okay, these were the cards that I was dealt. What can I do?' Place yourself back in the driver's seat and put that ball of empowerment back in your court. Take that kind of mentality and just run with it. You can do anything." – Liz Swail
Wellness + Wisdom Episode 474 – Healing Childhood Trauma
Entrepreneur, weightlifter, mom, wife, wellness expert and Co-Founder of Holistic Wellness Center Alive and Well, with her husband, Michael, Liz Swail explores the meaning of life, shares how to break your negative mindset and behavior cycles, why we should never rob someone of their healing process, how shroom tea helped lead Liz to a life breakthrough moment, and what is dividing families in America the most in 2022.
How can we unblock irrational fear to help us let go of past trauma?
By the end of this episode, you will have the tools to help you build the courage to rise above dark energy, build powerful connections, and better understand your purpose in life.
'Take a deep breath, step back and ask yourself if this worrying is helping? Because worrying makes our thinking brain go offline. What do we need to help us move forward? We need our thinking brain.' - @judbrewer
Click To Tweet
---
Listen To Episode 474 As Liz Swail Uncovers:
[7:30] Alive + Well in Austin, Texas
[19:00] The Power of the Question Prompt: What is The Meaning of Life?
[27:00] Breaking Your Negative Mindset + Behavior Cycles
[36:00] Never Rob Someone of Their Process
[44:00] How Shroom Tea Helped Liz's Breakthrough
[52:45] The Healing Spiral: Contraction & Expansion
[1:02:00] Why Outside Control Starts with Dividing Families
[1:11:00] Building Powerful Connection Within Ourselves and with Our Partner
[1:18:30] The Evolving Wellness Journey + Cultivating Purpose
[1:23:45] Unblocking Irrational Fear to Let Go of Trauma
Power Quotes From The Show
'Sleep apnea is referred to as 'the silent killer.' It is one of the most common, undiagnosed sleep disorders that exists. About 30 million people in the US suffer from sleep apnea, 80% are undiagnosed.' - Amir Reuveny of @Wesperhealth
Click To Tweet
Embracing the Whole Journey: Good Times + Bad Times
"A society, we're in this pursuit of zero discomfort and instant gratification but without that contrast and journey we can't show up in an authentic way for other people. We can't show up in a powerful way for other people. If we can change that and allow ourselves to feel both the good and the bad, the comfort and discomfort so that we can be empowered." – Liz Swail
How to Control + Heal Fearful Thoughts
"When you're fearful of something, you can't think of anything else. It's that inner questioning of 'What's going to happen if…?' and your brain is constantly spinning and spending energy on it. It's a waste because then you can't think of anything else like creating something bigger and better. So, recognize that fear when you feel it, don't be upset about it, and ask yourself why you're feeling afraid." – Liz Swail
Get Closer to Your Inner Child with Breathwork + Heal Childhood Trauma
"What inner child ideas are coming up when you are afraid, angry, or anxious? Personally, I never understood or did inner child work until I tried holotropic breathing. I sobbed like I never did before and I could see myself at 5 and 7 being hurt by other people. That helped me to say to my inner child, 'I'm so sorry that happened to you little Liz,' and recognize how some fear had manifested in me from a very young age. When you act a certain way like snapping at your spouse it is almost always related to a fear." – Liz Swail
---
Links From Today's Show 
---
About Liz Swail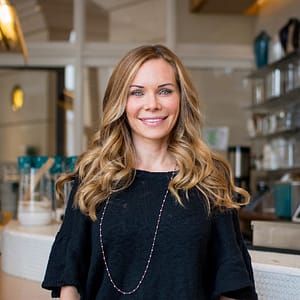 Liz Swail is an entrepreneur, weightlifter, mom, wife, and wellness expert based in Austin, where her and her husband Michael run their Holistic Wellness Center Alive and Well.
Liz had a complicated journey into the health and wellness space, as growing up she experienced a turbulent home life, disordered eating, suicidal thoughts, and poverty.
Childhood: comparing the "then" and "now" of her life, touching on how she transformed her own health by making changes over time.
The benefits of giving up gluten and alcohol, and the long-term benefits that you'll see if you invest time and effort into your weightlifting regime.
Liz balanced her strength training around her two pregnancies, and she managed to keep training right up until giving birth.
Liz says that her Christian faith plays in her life and encourages listeners to find a higher power so that they're not the center of their own universe.
---
Ozone Nasal Insufflation at Alive+Well