"When you fast, you force yourself to become more aware of what you consume; whether it be food or media. So, when people need to detox from propaganda and marketing, I will them to do an advertising fast. Without changing their behavior otherwise, they see how long they can go without seeing, hearing, or viewing an advertisement. People think doing a 24-hour food fast is hard but this is impossible because the only way that you'll escape is if you don't have your phone on and you're in the woods."  – Sky King
Wellness + Wisdom Episode 453
Host of Sky King's Mental Playground Podcast, Entrepreneur, and Social Media Marketer, Sky King, unpacks how podcasting has escaped the standard media model, the future of business models + gamification, and the psychology of propaganda + marketing plus how to exit the matrix.
How can you set up a noise-free day and do a proper advertising fast?
By the end of this episode, you will have a full understanding of propaganda in its truest form, how it has infiltrated marketing on a global scale, and how you can consciously let go of its influence.
When you fast, you force yourself to become more aware of what you consume; whether it be food or media. So, when people need to detox from propaganda and marketing, I will tell them to do an advertising fast. - @consumersky
Click To Tweet
---
Shop the BEST Organic Snacks at PaleoValley
PaleoValley's 100% Grass-Fed Beef Sticks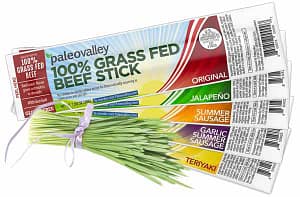 Paleovalley 100% Grass Fed Beef Sticks are the only beef sticks in the USA made from 100% grass fed/grass finished beef and organic spices that are naturally fermented.
Their 100% Grass Fed Beef Sticks are unlike anything else on the market. In fact, they were recently voted in Paleo Magazine as one of the top snacks of the year.
The reason is that they are committed to making the highest quality, clean products that are free from problematic ingredients.
Their beef comes from 100% grass fed cows raised entirely on natural grass pastures by family farmers right here in the USA. As a result they are healthy and happy.
PaleoValley's Pasture-Raised Turkey Sticks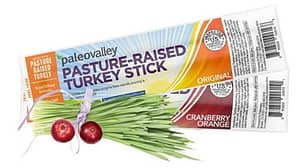 Paleovalley Pasture-Raised Turkey Sticks were created to make healthy snacking easier.
Their turkey sticks are made from turkeys who are allowed to live as nature intended… on organic grass pastures with plenty of sunshine, fresh air and room to exercise. The result of raising turkeys in such a natural way is a much healthier, clean protein with higher levels of vitamins, minerals, and omega-3s.
Unfortunately, virtually all turkey in the USA is conventionally raised with a small portion being "free range" – a virtually meaningless term that simply means the turkeys were allowed access to the outdoors. However, most "free range" turkeys only have access to an outdoor dirt field with no pasture in sight.
Their truly pasture-raised turkeys are given full access to outdoor, pesticide-free pasture with plenty of grass and insects for them to nibble on.
---
Listen To Episode 453 As Sky King Uncovers:
[1:30] Stoa and The Future of Business Models: Gamification
[14:40] The Influence of Podcasting
[23:00] The Waste that Propaganda & Advertising Create
[38:30] Unpacking Web 3's, NFTs, Crypto, and Blockchain
[51:30] How to Stop Losing the Morning and Start Winning Your Mind
[1:02:00] Unpacking the Negative Impact of CV 19 Propaganda
[1:23:00] How to Build a Better Media Monetization System
Power Quotes From The Show
If we can create systems that reward people so that they consume to earn, create to earn - you are rewarding people for their most valuable asset and you also reward creators for building entertaining education - @consumersky
Click To Tweet
A New Attention-Focused Model
"We have this sacred thing: our focused attention; the most valuable asset in the world. The only thing that you will never get back; the most valuable thing. With how we have evolved consciously, technologically, and spiritually – we have to build a model, a system that transfers energy and is in more in alignment with that at all costs." – Sky King
Podcast Gamification: A Win-Win Solution
"If we can create systems that reward people so that they consume to earn, create to earn – you are rewarding people for their most valuable asset and you also reward creators for building entertaining education that shapes communities and changes people's lives." – Sky King
Honoring Your Time & Attention
"Honor yourself by paying attention to where you place your attention. Practical first steps are all about getting back in alignment. Ask yourself, 'Am I acting in alignment when I want to receive advertisers or when I want to support the people who spend their lives doing the research so that I can learn? So that I can be better; and that I can lose weight; that I can be happier; and so that I can be less anxious. ' " – Sky King
---
Links From Today's Show 
Sky King Resources: Hong Kong Arrests January 6th
Wednesday January 6th the Hong Kong police had arrested 53 people, searched 76 places and frozen $200,000 of assets in connection with an informal primary for the pro-democracy camp — all under the auspices of Beijing's new national security law. 
In one swoop, the authorities rounded up not only some of the most aggressive critics of the Hong Kong government but also little-known figures who had campaigned on far less political issues, in one of the most forceful shows of power in the Chinese Communist Party's continuing crackdown on the city…
The HKSAR government said these persons are suspected to have violated the offense of subversion under the national security law in Hong Kong.
What does this mean in the context of the relationship with HK and Beijing?
Through plotting the plans of the so-called "35-plus" and the "10-step mutual destruction scheme", and conducting the so-called "primary election" among themselves, these arrestees are suspected to have conspired to obtain 35 or more seats at the Legislative Council (LegCo) with a view to recklessly and willfully voting down all the funding applications from the government to the LegCo and the Budget, forcing the resignation of the chief executive, as well as bringing the HKSAR government to a complete standstill. 
The whole plan sought to paralyze the government and seriously interfere in, disrupt and undermine the performance of government duties and functions, and compel the Central People's Government and the HKSAR government.
Police arrested lawyer John Clancey, who served as treasurer for the primary organizers, according to Jonathan Man, a partner at Hong Kong's Ho Tse Wai & Partners, which has handled hundreds of protest cases and where Clancey is a solicitor. 
Man said Clancey is a U.S. citizen, potentially providing a new source of tensions between Beijing and Washington.
It is a crime to "organize, plan, commit, or participate in" one of the following acts, "with a view to subvert State power" by " force, threat of force, or other unlawful means" (art. 22, para. 1):
Subversion & The CCP?
This is what they meant by "subvert" the government overthrowing or destroying China's basic system as established by the P.R.C. Constitution, overthrowing China's central authority or the authority of Hong Kong.
Carl Minzner, an expert on Chinese law and governance at Fordham University, added that Beijing's control in Hong Kong, as in China's other restive peripheral regions, involves "a particular emphasis on remodeling communities viewed as insufficiently patriotic and loyal" through ideological education and mass arrests, and efforts to co-opt "institutions that Beijing feels it does not fully control."
Civic Party chairman Alan Leong said the arrests showed the authorities ignored citizens' right to vote. 
He said he could not see why – in their promise to exercise the power to veto budgets as enshrined in the Basic Law – the democrats would end up being subversive.
The plan by the opposition was called the [[35-plus plan]]. 
I need to look into this more and what it means.
– Sky
---
About Sky King
Sky King is a podcaster, social media marketer, and entrepreneur. His obsession with how the media programs and shapes our reality led him down the path of understanding media manipulation, realizing in 2016 that podcasting was escaping the standard media model.
Sky has made it his mission to continue allowing podcasts to stay outside the influence of advertising and keep their content sincere.
His podcast Sky King's Mental Playground focuses on the tension between centralized and decentralized systems, specifically on propaganda, financial systems, and political systems. You can listen at skmp.supercast.com or follow Sky on Twitter @consumersky or Instagtram @iamaskyking.
Propaganda, Art, Health, Regenerative Systems, Great Food, Economic Incentives, and building companies in an increasingly digital world.
All of these concepts live in the balance of centralized and decentralized systems. I believe that if we are not careful, we will watch the pendulum swing away from self-governance, and in that swing, we have the opportunity to lose the future of humanity to the dark side.
These are the concepts that own my mind space. This podcast is an opportunity to play with these ideas with world leaders, entrepreneurs, my homies, and people that I find generally exciting or entertaining.
It is called a playground for a reason. This podcast will be as fun as it is informative; we are tackling society's most pervasive issues, but in a way that we are undoubtedly going to fuck up, scribble on, and get hurt.
---
Podcasting: A Gamified Media Model? Why Attention The New NFT