"Our ego and inner coach are not the same. Our ego is always looking for control and a result but our inner coach is not. Our inner coach keeps us present by looking for being with what is, accepting what is, and finding out what we can learn from it." – Christine Hassler
How To Access Your Inner Coach: Christine Hassler
What exactly is your inner coach and how can you use it to stay present, accept what is, and enjoy the journey?
On Wellness + Wisdom episode 277, Master Coach for Primal Health Coach Institute, Author of Expectation Hangover, and Host of the Over It & On With It Podcast, Christine Hassler, returns to discuss how the inner coach differs from the ego, the power of surrender, and why tools like diets, applications, or products are keeping you from dealing with the real issues at hand.
Tune in as Christine shares the biggest life lessons she has learned so far including why you shouldn't be afraid to reach out for help, you don't have to keep struggling to learn, and you're never done doing the inner work.
Expectation Hangover
Get your copy of Expectation Hangover by Christine Hassler here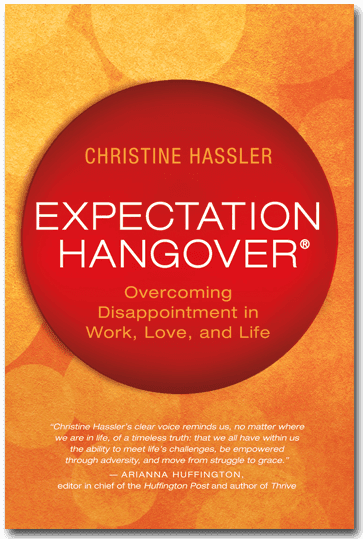 When our expectations are met and things go according to plan, we feel a sense of accomplishment and pride. Risking little, we feel safe, in control, and on-track. But when life throws us a curveball or does not live up to our expectations, we end up with an Expectation Hangover. This particular brand of discomfort is profoundly sobering and uncomfortable.
Christine Hassler urges us to not wallow in regret, self-recrimination, or anger, and instead see these hangovers as a catalyst for profound transformation. Often life has to throw us a curveball (or several) so that we look in a different direction.
When we fully treat our Expectation Hangover on the emotional, mental, physical, and spiritual level, we learn courage, faith, surrender, and love, and we make room for the kind of unexpected things that lead us more directly to a life we love—rather than a life we planned.
Christine Hassler, Motivational Speaker, Author, and Life Coach
'Our ego likes control, certainty, and results by keeping us in the comfort zone. However, our inner coach will help us be present, accept what is, and grow.' - @ChristinHassler
Click To Tweet
Listen To Episode 277 As Christine Hassler Uncovers:
Her experience as the Master Coach for Primal Health Coach Institute and how she's helping other health coaches dive deep into their own personal life, relationships, and mission.

The pros and cons of biohacking for better wellness.

Her own wellness journey and the negative effects of Prozac on her physical, mental, and emotional health.

The importance of focusing on both the emotional as well as physical sides of health when healing from depression.
How humanity has evolved to a place where we can now dig deeper into consciousness and emotional intelligence.
The expectation hangovers we all experience and her own experiences including having the fear of losing someone.
The negative impact of being in a relationship in which you feel the need to rely on another person so intensely.

The importance of looking back at ourselves and relying on ourselves to fulfill a need when we expect something from another person.

How the inner coach helps us to accept what is, be

present

, and not look for a result vs. our ego trying to be in control of everything, keep us in our

comfort zone

, and find a result.

The benefits of dating yourself and explore what you truly want in a relationship.

Why there is power in surrendering, accepting, and going with the flow instead of relying on planning, knowing, and certainty.

What tools she uses to make sure she's checking in with her emotions enough and she helps people with their own.

Different body cues the body will give us when we need to pay attention to something within ourselves.

What

vulnerability

really even means and why it's been so difficult in the past for men to express it up until now.

How her truth has shifted from focusing on her

inner work

to understanding why we're all here in our human bodies.
Power Quotes From The Show
'In relationships, people can meet each others' needs but it's not everything. If we're outsourcing our needs or our happiness to anything outside of us, then we really don't have that access point to our full potential.' - @ChristinHassler
Click To Tweet
"Whenever I'm looking for control or certainty, I know that's not really my inner coach and it's more of my ego trying to keep me in my comfort zone. Whenever I'm not really looking for a result but I'm willing to be present, accept what is, and work with it, that's my inner coach. So, the ego is always looking for a result but the inner coach is not. The inner coach is looking for being with what is, accepting what is, and finding out what you can learn from it." – Christine Hassler
"If I hadn't dealt with the emotional at the same time as the physical, I think I'd still be struggling with so many things in my life like depression. Yes, getting off gluten was important and going on a Paleo diet definitely helped but I don't think that would've done it completely for me nor other people. Why at 11 years old was I keeping my feelings inside? Why was I depressed? You can change your diet, do light therapy, or take supplements but it's not going to take away the emotional pain. A physical change will help you feel a little better but if you really want to be optimized as a human being, you have to hit all of the levels." – Christine Hassler
"In relationships, people can meet each others' needs but it's not everything. If we're outsourcing our needs or our happiness to anything outside of us, then we really don't have that access point to our full potential. We really have to be there for ourselves and make sure that our own needs are met as well." – Christine Hassler
As Mentioned On The Show: Slenderella For Better Health
You can expect any product that carries the Slenderella® name to be produced to the highest standards. We only allow pharmaceutical-grade vitamins, antioxidants, amino acids – from labs that have been cleared by the FDA – that target Liver Health, first and foremost, to be used in our products.
Christine Hassler: How to stop obsessive thinking
Links From Today's Show
About Christine Hassler
Christine Hassler is a former Hollywood agent and achievement addict turned best-selling author, speaker, and consultant known for helping companies and brands understand and connect with Gen Y.
Recognized as a leading expert on generational diversity, Christine advises on how to bridge generational gaps in the workplace as well as attract, engage and retain today's Gen Y consumers and employees. Some of her clients include Nike, Intuit, American Express, Coty, Hearst Publications, and Wells Fargo.
As a professional speaker, Christine leads seminars and workshops to audiences around the country. She has also authored three books: Twenty-Something, Twenty-Everything, The Twenty Something Manifesto, and her latest bestseller: Expectation Hangover.