"To be a Lifestyle Investor, you're in charge of your life. You're in charge of building an incredible life that can support itself based on income coming in. So, instead of working for a paycheck, a business, or your own business – why not buy assets that produce income? Those assets cover the cost of living and now your choices become better quality choices. Your problems become better quality problems. You don't have to worry about covering your bills or putting food on the table and supporting your family. Now you can focus on where and how you want to spend your time." – Justin Donald
Wellness + Wisdom Episode 438
Author of The Lifestyle Investor and Creator of The Lifestyle Investor Masterclass, Justin Donald, explores how to build true financial intelligence, what it truly means to be a lifestyle investor, the discipline of saving money for positive returns, what financial freedom feels like, Josh's own experience doing inner work around money and why his definition of wellness has now gone from a quadrant to a pentagon because of finances.
What does your relationship with money look like? What beliefs have been passed onto you about finances and wealth?
Discover why holding space for money is a key part of any wellness journey.
As a Lifestyle Investor, you're in charge of your life. You're in charge of building an incredible life that can support itself based on income coming in. You don't worry about bills; you think about where and how you will spend your time. - @jwdonald1
Click To Tweet
---
The Lifestyle Investor Masterclass
Five in-depth trainings for skyrocketing your wealth-building skills in just ONE day.
The Lifestyle Investor Masterclass is a high-level "crash course" designed to help jumpstart your investing career, win more passive income and achieve financial freedom within a few years.
Inside, you'll get instant access to 5 masterclass-level lessons, tools and worksheets so you can start putting it all into action and getting results right away.
These are "top secret" strategies that were shared by three world-class investors and I during an exclusive one-day event held for a few of my coaching clients.
Normally, the ONLY way to access these ideas is by being a member inside my mastermind or private coaching program.
But for a limited time only, I'm making them available to you as a self-paced training program that makes it easy to launch your Lifestyler Investing career from scratch
---
Listen To Episode 438 As Justin Donald Uncovers:
[1:30] The Power of Financial Intelligence
[17:00] How to Become a Lifestyle Investor
[32:30] The Discipline of Saving Money
[41:00] Why Wellness is a Pentagon
[46:30] Your Vibe Attracts Your Tribe
[53:30] Gaining Financial Freedom
[1:01:30] Building a Life to Serve Your Mission
[1:15:30] The 10 Commandments of Cash Flow Investing
Power Quotes From The Show
When most people hear the word, 'wealthy,' they think about money but if they're only putting their jobs first so that they're unhealthy and their relationships are suffering, then they're not truly wealthy in life. - @jwdonald1
Click To Tweet
What Being 'Wealthy' Really Means
"I see wealth in a different way and for most people when they hear the word, 'wealthy,' they think about money. Money is a component of being wealthy but it's much greater than that. I know a lot of people who have money but their physical health is horrible and they can't really do a lot; they're on a trajectory that's going to be a short life. Or they have bad relationships with the people that they love the most because they prioritize work or money over those connections. To me, that's just being out of alignment. It's incongruent with who I am and what I want out of life if other areas aren't doing well. So, to be a Lifestyle Investor is to put your life and your values first and live in accordance with them." – Justin Donald
The Benefits of Financial Discipline
"The discipline of saving and investing money in itself is going to be a fruitful return. So, even if it's not yielding a lot in the moment – if you can put money aside that you don't spend today that can earn you money tomorrow, that in itself is going to set people up for a lot of success. It sets them up for a lot of success because most likely people are going to make more money every year. At some point, people might have a big jump but over time most people are going to continue to make a little more. Any way you strike it, having some sort of discipline in saving money is great." – Justin Donald
Healing Your Money Wound(s)
"The beliefs that people have around money are going to most certainly impact their ability to build their financial wealth. In my own experience and those in my network, many people's beliefs around money and saving are borrowed from someone else such as a parent or caregiver because they projected a certain idea and then that was implanted as a fact in someone's mind instead of doing their own homework or coming up with their own beliefs. Often if those beliefs are disempowering then self-sabotage ultimately kicks in. I know a lot of people who have a hard time keeping money and building wealth because of their mindset and beliefs around it but one shift in mindset will change the game." – Justin Donald
---
Links From Today's Show 
---
About Justin Donald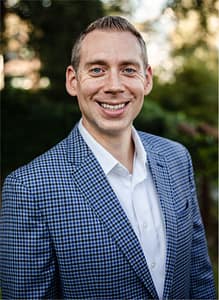 Entrepreneur Magazine calls Justin Donald the "Warren Buffett of Lifestyle Investing." He's a master of low-risk cash flow investing, specializing in simplifying complex financial strategies, structuring deals, and disciplined investment systems that consistently produce profitable results. His ethos is to "create wealth without creating a job."
In the span of 21 months, and before his 37th birthday, Justin's investments drove enough passive income for both he and his wife Jennifer to leave their jobs. Following his simple investment system and 10 Commandments of Lifestyle Investing, Justin negotiated deals with over 100 companies, multiplied his net worth to over eight figures, and maintained a family-centric lifestyle in less than 2 years. Just 2 years later, he doubled his net worth again.
Justin in the Media
He now consults and advises entrepreneurs, executives, and successful media personalities on lifestyle investing. Justin has also appeared on nearly 100 podcasts, including Entrepreneurs on Fire, The Mike Dillard Show, Making Bank, Achieve Your Goals, Capability Amplifier, Tractionville, Inside Personal Growth, Conscious Millionaire, Franchise Secrets, the Accelerated Investor, and Unbecoming.
Justin distilled his lessons and proven investment system that reliably generates repeatable returns into The Lifestyle Investor podcast and the best-selling book The Lifestyle Investor: The 10 Commandments of Cash Flow Investing for Passive Income and Financial Freedom, released in January 2021. The Lifestyle Investor was an instant hit, making the USA Today best seller list, breaking #8 on all of Amazon.com, and #1 on the Wall Street Journal's best-seller list. All proceeds from copies of The Lifestyle Investor go to Love Justice International, a nonprofit fighting human trafficking in 17 countries.
Justin's Best Practices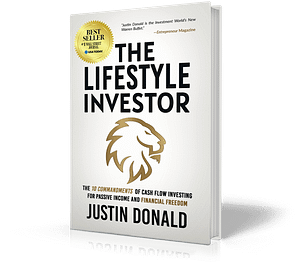 Justin is a lifelong leader and trainer with a track record of achievement. In his 20s, he worked with Cutco/Vector and quickly became one of the top managers in the company, and one of the youngest to achieve Hall of Fame status. His personal playbook of best practices was deployed nationwide as a training program to onboard sales representatives.
While in this role, Justin began investing heavily in real estate and owns several profitable real estate related businesses, a large portfolio of multifamily rentals, OrangeTheory Fitness franchises, and several other successful operating companies. His entrepreneurial ventures include IFM Restoration, a residential maintenance and rehab company founded in 2016. IFM recently funded its Series A with S3 Ventures, the largest venture capital firm in Texas, leading the round.
Justin's Favorite Causes
Justin is a member of Tiger 21 and a board member of Front Row Foundation International. He and Jennifer contribute to various causes privately and through their church, fighting cancer, building clean water wells in third-world countries and other humanitarian efforts. Additionally, they sponsor multiple children through Compassion International. The Donalds are based in Austin, Texas, and love adventure-based international travel with their beloved daughter.
---
The Lifestyle Investor
---
Shop the BEST Organic Snacks at PaleoValley
PaleoValley's 100% Grass-Fed Beef Sticks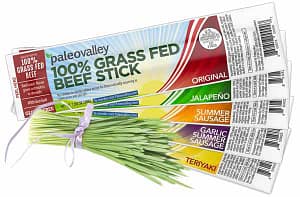 Paleovalley 100% Grass Fed Beef Sticks are the only beef sticks in the USA made from 100% grass fed/grass finished beef and organic spices that are naturally fermented.
Their 100% Grass Fed Beef Sticks are unlike anything else on the market. In fact, they were recently voted in Paleo Magazine as one of the top snacks of the year.
The reason is that they are committed to making the highest quality, clean products that are free from problematic ingredients.
Their beef comes from 100% grass fed cows raised entirely on natural grass pastures by family farmers right here in the USA. As a result they are healthy and happy.
PaleoValley's Pasture-Raised Turkey Sticks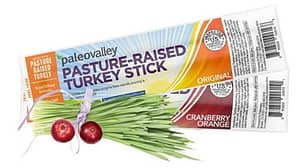 Paleovalley Pasture-Raised Turkey Sticks were created to make healthy snacking easier.
Their turkey sticks are made from turkeys who are allowed to live as nature intended… on organic grass pastures with plenty of sunshine, fresh air and room to exercise. The result of raising turkeys in such a natural way is a much healthier, clean protein with higher levels of vitamins, minerals, and omega-3s.
Unfortunately, virtually all turkey in the USA is conventionally raised with a small portion being "free range" – a virtually meaningless term that simply means the turkeys were allowed access to the outdoors. However, most "free range" turkeys only have access to an outdoor dirt field with no pasture in sight.
Their truly pasture-raised turkeys are given full access to outdoor, pesticide-free pasture with plenty of grass and insects for them to nibble on.