"The Adventure Kit from reVessel offers you the structure to go enjoy life and explore all day. No more dependence on somebody else for your nutrients. No more relying on somebody else for your health or to tell you what's healthy. You determine what's healthy for you." – Jessica Bell
What actions can you take to heal both the planet and yourself at the same time?
Wellness + Wisdom Episode 287
Co-Founder and CEO of reVessel, Jessica Bell, shares how their product, the Adventure Kit, is creating a ripple effect for a healthy and sustainable world, the impact of plastic and pesticides on both your health and the environment, and how to structure your life so that you can have more freedom to live your own wellness journey.
Discover how the new generation of conscious capitalism is giving back to your world. 
reVessel's Adventure Kit
Early Bird Special!
Order by July 31st for an additional 10% off reVessel's Early Bird Special with the code WELLNESSFORCE10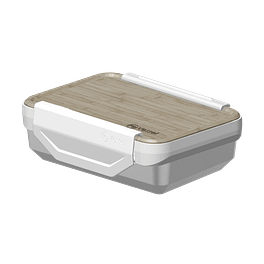 reVessel is a consumer goods brand advancing food storage to solve human and environmental health challenges. The Adventure Kit is the latest in leakproof, stainless steel, modular innovation to hit food storage industry with the most durable, non-toxic, multi-talented approach to safely prepping, storing and packing food all-in-one and taking it wherever you go. Smarter products are designed for efficiency, organization and to last. They add functionality to the kitchen and freedom to your lifestyle.What's in the box?
This 13-piece set includes two 1-cup and two 2-cup containers which insert into the 8-cup main vessel each with accompanying food-grade silicone storage lids, and one 3-piece adventure lid conversion kit.
Materials
ALL CONTAINERS – 304 18/8 stainless steel
STORAGE LIDS – food-grade silicone
LEAKPROOF LID KIT – bamboo lid, food-grade silicone for seal layer, polypropylene ring, and clamps

reImagine. reStore. rePurpose. reVessel.
[click_to_tweet tweet="'As part of conscious capitalism, we want to use business as a way to help heal this world.' – Jessica Bell of @revesselusa " quote="'As part of conscious capitalism, we want to use business as a way to help heal this world.' – Jessica Bell of @revesselusa "]
Listen To Episode 287 As Jessica Bell Uncovers:
The importance of re-purposing food storage and focusing on food safety to heal ourselves and the planet

Why the name, reVessel, and what mission they want to share with the rest of the world through conscious capitalism.

How the Adventure Kit came to be and the benefits of providing buyers a safer container to place and eat their food in.

Our dependence on

plastic

and how we can make the shift away from it to create a healthier environment at home.

Cooking as a gift and something we should all be grateful for to help us lead a more

sustainable

and healthier life.

Her anger at how we've come to this point of allowing toxins and

chemicals

into our food system through GMOs and plastics.

Experience as an elite gymnastic and how one of her elbow bones dying impacted her wellbeing, social activities, and

community

The strong desire she has always had to be a mother and how becoming one shifted not only her career focus but to also live a healthier life.

Mothers' number one biggest concern when it comes to food and health for their families.
How to properly encourage your child to eat healthier without pushing your own values on them.
Giving Back To Mother Earth
Benefits of constantly challenging yourself to try new activities and then transferring that to teach kids to try new foods.
Why the way we treat ourselves and our health is an exact mirror of how we're treating nature today.
Her own healing journey through improving her diet with nutritious, whole, and organic foods.
Why going to the Farmer's Market and eating healthy isn't a luxury and how we can begin to see it as a must for everyday health.

Her interest in

biohacking

and the research from experts such as Dr. Zach Bush and Ben Greenfield on healing.

What conscious capitalism is and how it can be used as momentum to help the world heal.

How reVessel has teamed up with Dr. Zach Bush to help combat

climate change

and heal the world.

The dying art form of actually sitting down and eating a meal together without distractions.

Bringing safe,

sustainable foods

and products not only to the USA but also the developing world.

The power we have at every single meal to make good, healthy choices to nourish ourselves and the planet.
Power Quotes From The Show
[click_to_tweet tweet="'At reVessel, we now have this exciting opportunity to use our food system, company, and cooking as a medium for climate change and human health.' – Jessica Bell of @revesselusa " quote="'At reVessel, we now have this exciting opportunity to use our food system, company, and cooking as a medium for climate change and human health.' – Jessica Bell of @revesselusa "]
reVessel's Mission
"reVessel was born out of the recognition that I'm not here for me, I'm here for something that's so much bigger than myself. It took so many moments of feeling broken down to realize that I had to rebuild myself in a way that served others. So, the focus of serving others who are ready to be served is now applied to every single thing we do through the company." – Jessica Bell
Taking Life Outside Of The Kitchen
"Life isn't just at home and the Adventure Kit allows you to continue living your life. I didn't want to be just confined to a kitchen and the only thing I do is meal prep and cook because then I don't get to go experience my children's' tournaments, trips with my girlfriends, and events out in the world. I wanted to extend those precious moments and bring others the same experience." – Jessica Bell
A New Generation of Conscious Capitalism
"As a part of conscious capitalism, we're right alongside this new generation of brands that are committed to being more responsible, support non-profits, give more to others, and use business as a way to help heal this world." – Jessica Bell
Thinking Beyond The Convenience Of Plastic
"How does plastic enter our system? How does it enter our food chain? Most of us are mindlessly consuming it; I have, I've been there too. It's easiest here and now to just buy, drink from, and chuck away a plastic water bottle but then we're not thinking beyond what that looks like for our children, their health, and their environment." – Jessica Bell
Recover Faster: FITAID RX ZERO (Sugar Free + CREATINE)
Recovery Blend  is Keto-friendly, with the same clean ingredients and essential nutrients you love in FITAID ZERO. With 1,000mg of Creatine to help you build muscle while your body recovers after intense physical activity/exercise with zero sugar. (Sweetened with Monk Fruit & Stevia)
Whether you need a sugar-free alternative to post-workout recovery with the added bonus of Creatine for your muscles, you are counting macros or you just want a Keto-friendly option that tastes great, FITAID RX ZERO is perfect for women and men. Recommend to drink an ice-cold can immediately following your next WOD, exercise or training session.
SAVE 10% and get FREE shipping by clicking here or in the photo below:
(Photo Credit: Emily Andres Photography) 
reVessel: A Lunch Box That Does More