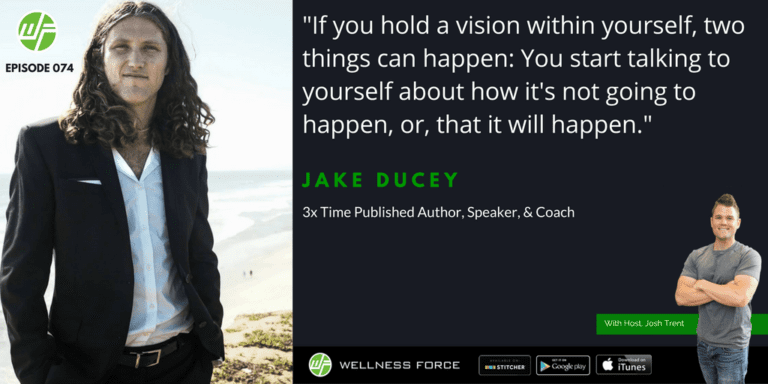 Creating The Life We Love With Jake Ducey
Everyone has experienced a moments when we're not happy with our life. We come upon a revelation when we know that we must have something else to become who we're truly meant to be.
But it can be difficult to know where to begin and the path to accomplishing our goals can seem like a blip on the horizon.
For Wellness + Wisdom episode 074, Keynote Speaker 3X Published Author Jake Ducey shares how the action steps we can create a life that we love.
To get started on living a fulfilling life, Jake explains how the subconscious mind works to help our intuition, how to identify and own our vibrations, and how to live a life that we love.
Take Advantage of Your Subconscious Mind
To be successful and live a life that you love, it's all about living a life that you feel good about. To do this, you must listen to your own thoughts and senses.
Unfortunately, many people are limited by their mindsets and their emotions that are controlling their thoughts. Not only is it important to understand how our thinking process works, but how we can use the subconscious mind to our advantage.
The unconscious mind is so powerful because it acts as a filtering device for outside reality.
Outside reality can be anything from thoughts about love, body image, money, or career that we hear about from other people, the public media and even Facebook. These pieces of outside reality create barriers that keep us from listening to our inner voice and intuition.
Once you begin to listen to your intuition and emotions, your vibrations can tell you the truths about who you are and who you're meant to be.
Learn to Listen to Your Inner Vibrations
"When you disconnect from your senses, you get in touch with a deeper vision. You can see your life, who you want to be, and who you're supposed to be. You can hear the intuition from the heart and soul speaking to you in a faint voice that can't always be heard because the noise of the world is so loud."-Jake Ducey
Thoughts from the outside world can keep us down, but so can our own senses and emotions. When we're controlled by multiple different senses and emotions, we become unfocused. Things that we want like good grades in school or a higher salary send out frantic and stressful vibrations and senses that control our every move.
When we disconnect from outside noise and really listening to our emotions, we can tune in to what our unconscious thoughts and energy vibrations are telling us. In the end, you come to realize that the truth relies in your own reality.
Change Your Life with Visualization
"If you hold a vision within yourself, two things can happen: You start talking to yourself about how it's not going to happen, or, that it will happen."- Jake Ducey
We think in images, not words.
If you can control the images within your head, then you can control your mind and essentially your life. But sometimes, outside thoughts and images can create roadblocks. These images can be anything from what we see on the news, from social media, to a chat with our co-workers.
Fortunately, you were born with this powerful mind to create whatever you want to create.
Don't listen to what other people tell you what you can and can't do.
Visionaries don't accept the outside world and they don't allow it to hold them back from doing what they want to do. You have to think of what you want to think. Don't fill yourself with negativity and everything that's going on in the outside world.
Block out the outer world at times so you can focus and believe more inside your inner world.
First Steps To Create A Life That We Love
Create a life that you love by setting goals for yourself and give a new meaning to things in your life such as your education or your career.
Another way to create a life that you love is to increase your own personal value.
Stick with your job and work on being more comfortable with yourself and the tasks that go along with it. You can increase your value without ever changing jobs by first growing your skills to increasing your positive self-image.
Accomplishments like that can help you grow in your career and start you on a path to a position that you love, a new company to work for, or a better salary.
It's not where you are in your career, but the meaning that you give to your career and the value that you create from it.
To move forward in your life, what do you want to create?
People such as Jay-Z, Steve Jobs, and the Wright Brothers didn't listen to the outside world. Instead, they were so ambitious and successful because they had these inner visions and images. Their inner world helped them become who they wanted to be and do what they wanted to do with their lives.
About Jake Ducey
At only 25 years old Jake Ducey is a three-time published author with Penguin/RandomHouse (The Purpose Principles and Profit From Happiness), a leading speaker for his generation having been featured in TEDx Youth, hired by mega organizations such as Nielsen and Accenture, and a leader who has already inspired countless thousands of young people to seek meaningful career success and to make a difference in the world.
TEDx Youth Talks featured Jake on their stage, the Van's Warped Tour made Jake Ducey their first ever-inspirational speaker for their entire 42-city 2015 summer tour in front of 500,000 Millennials and their parents.
"High School Nation" sent Jake on a 30 high school inspirational speaking tour, the number one talent agency in the world CAA (Creative Artist's Agency), signed Jake, and school districts across Southern California have begun to implement his first book "Into the Wind" as required reading along with a teaching curriculum he helped design.
Most significantly to Jake, the nonprofit Feed Our Children Now announced him as their spokesperson and while on Vans Warped Tour Jake helped them raise 345,000 pounds of food for homeless youth in America.
What You'll Hear On The Show
3:10
About Jake Ducey
3:50 What are some things we don't know about Jake Ducey?
4:45 What inspired you to write the Purpose Principles?
7:00 How do we achieve success?
7:40 What's the common thread with your clients? What limits our mindsets?
10:40 What was the shift that caused you to make a change in your life and to leave college?
12:45 Tell us about what you learned when you traveled and what you learned on the rocks.
20:00 How we're controlled by our senses through vibration
22:50 What is your relationship with Jack Canfield and meeting him?
29:25 Fear and Meaning: "Meaning comes while we're on the path to our vision. Not once we've achieved it."
31:40 Get a Wellness Bundle from Perfect Supplements!
32:55 What is vibration and how can our current vibration attract or refract things that we want?
37:00 How do I take real control and ownership of my energy vibration?
41:10 How do we actually do what we love? What gets people back in touch with themselves?
46:35 How do we shift out of a job that we don't want anymore? How can we plan for that change?
50:45 How can visualization help a person make a change in their life?
59:10 7 for 7 round: Josh asks Jake 7 fast questions
1:08:00 About Jake Ducey's Live Teaching Seminar: Rat Race to Dream Life Live Intensive
---
Links From Today's Show
---
Aloha! Josh here. Listen, I deeply value your thoughts, now let your voice be heard. I live to serve the Wellness Force even better based on your words, feedback, and requests. (including how these episodes can allow you to break bad habits)
---
Thanks To Our Amazing Sponsor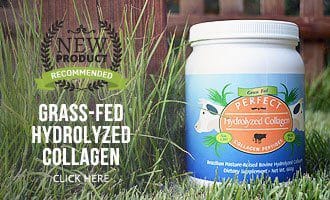 Want to avoid more trips to the store and save hundreds of dollars a year on superfood supplements?
Check out Perfect Supplements.com
Go to perfectsupplements.com/wellnessforce to get your grass-fed collagen from today's show and sign up for a free membership, plus get 10% off your entire order – just enter promo code "wellnessforce" at checkout.
Ask A Live Question For The Next Episode

Click here to leave a voicemail directly to Josh Trent to be read live!

Get Your Free Audio Book
About The Author, Lauren Bryant, Podcast Production
Lauren Bryant is the Podcasting Assistant and Show Notes Writer for Wellness + Wisdom. She has a BBA in both Marketing and Spanish for Business as well as certificates in Advanced Business Communications and International Business from the University of Wisconsin- Eau Claire.
Lauren's wellness journey began at a young age when she joined her local YMCA swim team, The Wave, of La Crosse, WI. One of the most profound views on wellness that anyone has said to her was when she was an assistant swim coach for that same YMCA swim team.
One day during a practice, former head swim coach, Jon Brenner, shared with her that the most important thing about coaching the swimmers was that "It doesn't matter if they become the best athletes in the world. What's important is that we give them the tools and guidance they need to live a healthy, active lifestyle for the rest of their lives."
Since hearing those words, she has taken it to heart to not only focus on continuously living her own healthy lifestyle, but to help others pursue their wellness goals as well.
Lauren is not only an avid swimmer, but a fan of running, yoga, cooking, and doing any activity outside that involves being surrounded by nature. In the Fall of 2014, she completed a long-awaited goal of walking the Camino de Santiago in Spain.
According to Lauren, wellness is about finding gratitude and joy in doing any type of physical or self-care activity that we love. Wellness means providing ourselves with self-love, good nutrition, and the inner peace that our individual minds and bodies need.