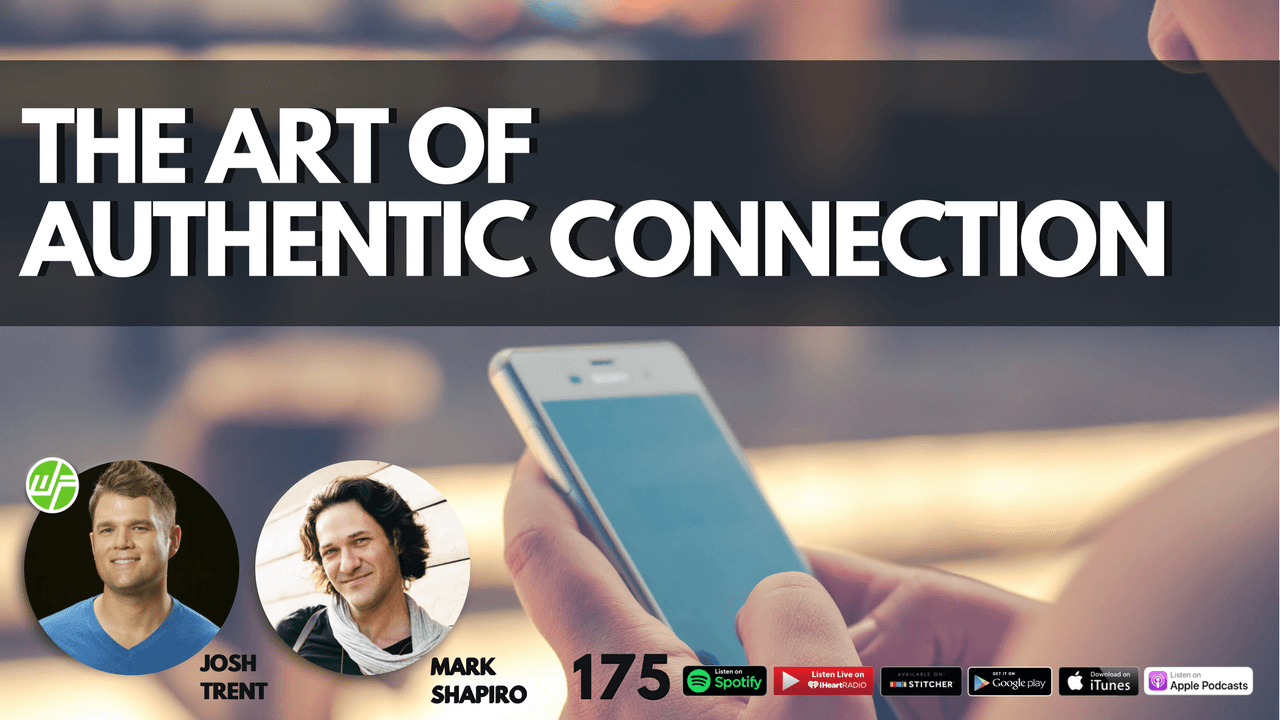 Mark Shapiro: The Art of Authentic Connection
"What can social media be? We can either waste time on our smartphones with social media or we can invest our time in social media. That's what my birthday experiment is about. It's about investing time in relationships and giving our time, energy, and love away to others." – Mark Shapiro
Is social media helping you authentically connect or disconnect with friends and family?
When you send or receive a message on social media, does it come from the heart or does it feel empty?
In Wellness + Wisdom episode 175, Social Experimenter, Host of The One & Only Podcast, TEDx Talk Speaker, Founder of Are You Being Real, and Founder & President of Winning Weeks, Mark Shapiro, shares how you can become more authentic online, the basics of social media etiquette, and the 3 Social Media Fails.
Try to answer this question for yourself once you finish listening to this episode: What can social media be for you?
Are You Being Real?
There are over 7 billion people, but only 1 of you – Cut through life's endless noise and align with what really matters most to you.
Mark's Are You Being Real? Authenticity Workshop tackles life's obstacles, challenges, and pressures head on through a series of exercises guaranteed to enrich your relationships, career, and overall life.
By taking part in the workshop, you will be able to:
Identify where & how you can be more real with yourself and others
Get clear on your goals, values, and what's most important
Create an action-oriented strategy to generate the life/results you desire
Practice communication skills that will strengthen your relationships
Learn empowerment & productivity techniques
Meet & connect with inspired people
Express yourself however you wish
Mark Shapiro's Are You Being Real? Workshop
Do More With Winning Weeks
Winning Weeks is an 8-week virtual goal accelerator program designed to keep you accountable to all of your most important wealth, health, and relationship goals.
By providing you with a community of like-minded high achievers, an originally designed curriculum that increases productivity, and weekly coaching from our expert facilitators that normally charge $150+ an hour, we provide you with all the accountability you need to ensure you follow-through on your most important priorities, and that no good idea be pushed, forgotten, or abandoned.
In Winning Weeks, we lovingly challenge each other to set powerful goals, and more importantly, accomplish them.
Listen To Episode 175 As Mark Shapiro Uncovers:
What a Social Experimentor is and what they do.
Why he leaped from working for Showtime Networks and working in a corporate setting to a more creative role on his own as an entrepreneur.
The art of being authentic and really listening to what's going on inside of your mind.
Why it's such a powerful move to declare an exact date of when you're going to make a change in your life.
When he realized that he wanted to share the message of authenticity further through a podcast.
How he dealt with the loss of his father to early onset Alzheimer's disease.
The rising numbers of people who will have Alzheimer's as more and more people are living longer lives.
How you can authentically communicate with people through social media.
Why sending a voice message over a written message on social media can be more therapeutic and bring you closer to people.
The 3 Social Media Fails – Oversharing; envy and comparing to other people; and projecting a specific image by being fake.
Why it's impossible to be happy all the time and there's no such thing as "positive vibes only" in life.
The ultimate question to answer: What can social media be?
How you can be more conscious of your vulnerability by deciding what to post or not post on social media.
Social media etiquette What to share and not share online.
All about his programs, Are You Being Real and Winning Weeks.
How his intentions and goals have shifted for 2018 when it comes to serving others.
Why you don't have to feel afraid to feel your emotions like anger.
How your deeper anger can actually serve you and your goals.
Power Quotes From The Show
"I think it's great to pick a date for when you're going to do something new with your life. Dates can be a huge guiding star for you if there's some big or small goal you want to obtain. The date that you do pick is only as important and real as you make it. If you mean it, you'll commit to that date. If not, you'll let it pass and that's okay." – Mark Shapiro
"When you get a flood of Facebook posts on your birthday, how many of those do you actually see? How many of them actually land and touch your heart? I'm guessing that you don't even notice the ones that simply say, "Happy Birthday," on them. A 15-second video goes against the norm; it's creative, personal and the results speak for themselves." – Mark Shapiro
"What drove me at the beginning of my journey was for me to become the best human being that I could be, but only for me and my personal fulfillment and joy. Today, that's still a big part of the equation, but serving others is also incredibly important. Serving others is what brings me joy and makes me feel like I'm here for a reason." – Mark Shapiro
"We are not all of our feelings. Perhaps we're feeling an emotion in the moment, but that doesn't need to define who we are. In reality, our feelings of anger and frustration are only temporary. It's okay to be angry from time to time; that's what makes you human." – Mark Shapiro
"Before you post something on social media, make sure you're being authentic to yourself and you don't have any outside motives for sharing it. Before you click "enter," ask yourself: Who are you posting this for? Is it for you or is it to impress someone else?"– Mark Shapiro
Links From Today's Show:
The Art of Connection In a Digital World | Mark Shapiro | TEDx Talk
About Mark Shapiro
A former executive at Showtime Networks Inc., Mark Shapiro left the safety of his 12-year career and 6 figure income to live a more fulfilling life and be a positive interruption to the status quo. Through his acclaimed authenticity themed podcast – The One & Only, provocative website – AreYouBeingReal.com, innovative leadership community – Winning Weeks, and TEDx Talk – Want More Love? The Art of Authentic Connection in a Digital World, Mark lovingly challenges people to be real with themselves & others and is re-inventing the way we support & connect with each other – igniting people to stand for what they believe in to live happier, healthier & more connected lives.
In just over 2 years, Mark's work has touched the lives of over 150,000 people; he has interviewed hundreds of thought leaders, entrepreneurs & artists on The One & Only Podcast (#7 on iTunes in Spirituality; April '17), grown the Winning Weeks leadership community to hundreds of members, and has conducted cutting-edge social experiments that have earned him the opportunity to speak internationally & share his message with the world. Mark is leading the way with authenticity, integrity & vulnerability, and when he isn't working, he spends his time playing, dancing, crying & being a vocal Alzheimer's advocate.