Unlabel Your Life With Lori Streator
"Change is difficult in the beginning and can get messier as we go, but it always starts with love. Because, in order to improve yourself, you first have to love yourself. It's about acceptance, not settling. Keep your unique quirks and your perfectly imperfect amazingness in mind as you set intentions for 2017" – Lori Streator
WHEN THE LABEL DOESN'T FIT
What stories have you been told or are you telling yourself that you know in your heart you need to let go of?
Which roles do you have in life? What are their commonalities and what do you know doesn't "fit" you?
Today on the show, Lori discusses how to find the right labels for your wellness and how to peel off the ones that don't fit – even if your subconscious mind says they do.
Lori's mission is to help others understand that when you change your mind, you can change your life.
Instead of procrastinating, caving into fear or staying stuck in a places they don't want to be, she works with her clients across the world to help them rewrite their story and move forward to a place of self love and genuine happiness.
DISCOVER WHAT YOU LOVE ABOUT YOURSELF
"Know who you are and own it. You can love who you are, but that doesn't mean you have to settle for things. Self-love and self-improvement aren't mutually exclusive." – Lori Streator
We need to spend some quality time thinking about what brings us happiness or what makes us feel satisfied. It's so wonderful to discover and love all of our quirks and the unique parts that make us who we are. When we discover our true core, we can define ourselves in our own words.
Don't label yourself according to what others think about you, but according to what you know about yourself.
We create our own paths and if you love what you've chosen for you, that's awesome! If you don't like what your doing, then you have to understand why you feel that way. What are you missing?
Take power into your own hands and stop doing anything that you don't enjoy doing. Instead, start doing something that makes you happy to be who you are.
PEEL OFF PAST LABELS
"Once you identify where the struggle is, you know what you need to change and it starts in the mind." – Lori Streator
We often get labeled when we're young or sometimes we even label ourselves based on the traumas that we've experienced. We remember what happened to us or what people said about us and from there on out, we create labels that misidentify who we are.
But we can't let our past define us. As adults, we get the chance to re-evaluate who we are and truly discover our identity. We get to go back, peel off old labels and re-label ourselves by throwing out what doesn't work for us and add in what does work.
STEPS TO UNLABEL YOUR LIFE
Start unlabeling your life by carefully thinking and deciding what makes you happy and joyful or sad and frustrated. It may take some time to listen to what your emotions and gut feelings are telling you.
If you've discovered something that makes you unhappy, then next you should be asking yourself, 'Why am I still doing it?' Take a job for example. Maybe it makes you miserable, but you don't know why you've stayed at this job for so long. Why haven't you done something before now to make you a happier person?
It can be scary to try to change your life, but would you rather settle and be miserable or change to experience true happiness and discover your real purpose?
Decide What You Want to Change
Once you've identified what makes you feel good, you have to find a way to keep it a part of your life. Maybe you have to leave that job to start a new career or leave a toxic relationship and spend some time living the single life.
Just remember that you're doing what makes you happy for you and no one else. 
There's a lot of outside noise and opinions that we care about when we know we should just ignore them. Life is not that complicated. You define your life according to you and no one else. You have to live your life the way you want to live it.
FIND THE CONFIDENCE TO CHANGE
"We often stay stuck with something that makes us miserable because it's still part of our comfort zone." – Lori Streator
Lori realized one day that in order to complete her goals, she couldn't continue to think about what others think about her. Just like Lori, we all need positive affirmations  and purpose that can give us confidence to keep moving forward.
Focus on Self-Care
If you need to heal before you can change, seek out the outlets that will give you the space that you need. Lori suggested exercise, church, nature, or any other type of active that allows you the solitary time you need to focus on giving yourself the best self-care possible.
During our time of self-care whether it's daily or weekly, we need to recognize what our emotions are telling us. If we're struggling to address what we need, therapists and other people can help.
Seek Help from Other People with Similar Experience
Reach out to people who have gone through what you are going through now. On the other end, if someone else reaches out to you, the best you can do is tell them that you are here for them. Give people permission to ask for help.

https://www.youtube.com/watch?v=qK9nBV_ArF4

PLAN FOR CHANGE
"The body can't go where the mind won't." – Lori Streator
It's hard to leave our comfort zone when we're  not ready for change. To make change in our life as simple as possible, we should just focus on adding simple steps. Just drinking more water, journaling, or spending 10 minutes a day to focus on gratitude. Little changes like this will help us find the big change that we are looking for in our lives.
If you're trying to add in a new change to your life and it's not working, that's okay. We can't follow a one-size fits all plan.
Lori gave a great example of participating in a group exercise class. Maybe everyone else around you is loving the class, but you don't like it one bit at all. Sometimes feeling good about yourself is not all about weight loss or physical changes. It's about how something makes you feel and more importantly, if it makes you happy.
If you're doing something that's not making you happy, you won't get the results that you want or desire. 
ABOUT LORI STREATOR
Lori Streator is a Whole Body Wellness professional and the owner of Breakthrough Mind & Body. After having her son in 2011 she gained a newfound respect for healthy living, so she combined her love for health and happiness with her passion to help others.
Lori is a licensed clinical professional counselor, she has 10 years of experience in the field of psychology. She teaches from the philosophy that we need to build healthy habits, not ridiculous restrictions, in order to create positive & lasting change. Her clients learn how to shift their mindset, improve their health & work toward living their ideal life.
Lori runs a website and coaching business where she has the opportunity to help people align their body and mind, and live a life of health and happiness. Lori utilizes her zest for life, and her clinical professional counseling license and fitness/nutrition certifications to design Whole Body Wellness programs.
She works with clients both in person and online, and knows that programs are not one-size-fits-all. She does everything with ease, a sense of humor and the understanding that everyone deserves to live life with joy. 
DEALING WITH LOSS
"When my mom passed away in October 2015, it reinforced how important health and wellness is, and that my mission is as strong as ever. While I could've laid in bed feeling sorry for myself, I decided to show up for life. When we're faced with life-altering events, we can choose to be a victim or we can choose to be a force. While I still grieve, cope and manage my own wellness, I have the understanding that I decide how my story continues." – Lori Streator
RESOURCES MENTIONED ON THE SHOW
WHAT YOU'LL HEAR ON THE SHOW
Aloha! Josh here. Listen, I deeply value your thoughts, now let your voice be heard. I live to serve the Wellness Force even better based on your words, feedback, and requests. (including how these episodes can allow you to break bad habits)
---
Thanks To Our Amazing Sponsor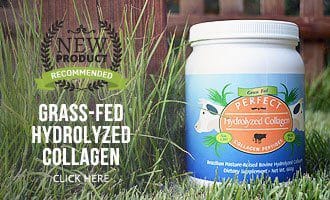 Want to avoid more trips to the store and save hundreds of dollars a year on superfood supplements?
Check out Perfect Supplements.com
Go to perfectsupplements.com/wellnessforce to get your grass-fed collagen from today's show and sign up for a free membership, plus get 10% off your entire order – just enter promo code "wellnessforce" at checkout.
---
Lauren Bryant, Podcast Production
Lauren Bryant is the Podcasting Assistant and Show Notes Writer for Wellness + Wisdom. She has a BBA in both Marketing and Spanish for Business as well as certificates in Advanced Business Communications and International Business from the University of Wisconsin- Eau Claire.
Lauren's wellness journey began at a young age when she joined her local YMCA swim team, The Wave, of La Crosse, WI. One of the most profound views on wellness that anyone has said to her was when she was an assistant swim coach for that same YMCA swim team.
One day during a practice, former head swim coach, Jon Brenner, shared with her that the most important thing about coaching the swimmers was that "It doesn't matter if they become the best athletes in the world. What's important is that we give them the tools and guidance they need to live a healthy, active lifestyle for the rest of their lives."
Since hearing those words, she has taken it to heart to not only focus on continuously living her own healthy lifestyle, but to help others pursue their wellness goals as well.
Lauren's not only an avid swimmer, but a fan of running, yoga, cooking, and doing any activity outside that involves being surrounded by nature. In the Fall of 2014, she completed a long-awaited goal of walking the Camino de Santiago in Spain.
According to Lauren, wellness is about finding gratitude and joy in doing any type of physical or self-care activity that we love. Wellness means providing ourselves with self-love, good nutrition, and the inner peace that our individual minds and bodies need.