WHAT IS WELLNESS?
Friend, I'm excited to share this quick video from the Wellness Force podcast that asks a profound and timeless question…
What Is Wellness?
A profound question answered by nine of the most powerful and insightful wellness speakers on planet earth.
Yet I'm curious for you today after watching the video: how do you personally define wellness?
What does wellness really mean to you?
We put together this inspiring video for you to enjoy.
Wishing you wellness!
Listen to the full episodes of each guest here:
Transcript from 'What Is Wellness?'
Josh Trent (00:15):
How would you define the concept, the definition of wellness? What does it mean to live your life well? How would you define wellness?
Robb Wolf (00:27):
Definitely thinking about one's place in the world and being comfortable with that is I think a really powerful piece of wellness. Maybe it is not wellness itself. Maybe it's a derivative of, you know, this next order thing that is wellness, but understanding that we are a piece of nature, that nature is where we belong, I think is a very comforting thing to understand that would certainly feed into wellness well.
Dr. Kelly Brogan (01:03):
How can we bring awareness and reverence to all the little mundane elements of our life and begin from that platform of sacred relationship to the self to begin to orient towards others in that same way.
Zach Bush MD (01:25):
Wellness is understanding that you are being given right this second, a millionth of a second at a time, the opportunity to take all of the energy in the universe to manifest a single physical experience. Wellness is being new every time you have that experience.
If you felt bad with the last millionth of a second, well let go of the things that were making you feel bad, that millionth of a second and be anew right this millionth of a second.
Dr. Ben Lynch (01:50):
I think the concept of being well is an understanding of how you are responding real-time to the environment. I mean, real time. Wellness is not a static thing. It's constantly an ebb and flow. I mean, wellness is an understanding of how the environment is impacting you real-time and what you need to do about it in order to correct it and navigate through it. That's wellness.
Alison Armstrong (02:14):
To me, wellbeing is the alignment of the physical, the mental, the emotional, the spiritual, even you know most people don't not know, the etherical; the energetic field between the physical and the spiritual. And clean living in every way.
Bizzie Gold (02:37):
To live your life well, I think you have to understand at your core, where you want to go and who you want to be, because that then is going to be reverse engineered into what wellness is going to mean for you. Wellness, I think is a combination of understanding your own internal wants, needs and desires.
How your body functions optimally in terms of what sort of fuel sources you're putting in there and what sorts of boundaries you're putting up and how you're sharing that energy with other people.
Mark Groves (03:07):
I think wellness is that – is like creating a space of inner peace. Because if you look at what wellness is not…and a lack of wellness shows up as inflammation in the body. Inflammation is caused by any dysregulation within your body.
Anat Peri (03:26):
You're tending to all parts of your garden, all parts of your life; everything matters, whether it's just yourself with yourself, or with your relationships, with your business. So taking care of everything and taking time starting out your day tending to yourself. And what that means to me is sitting, creating that safety, scanning the body, seeing if there's anywhere that needs any part of the unique piece of the puzzle of you that needs a little more love, attention, presence, and acceptance.
Luke Storey (04:02):
I think wellness is in the realization fundamentally of who and what you are. You know, whether your experience of that is within your heart and that energetic field that we each possess. Or your sense of who you are, even as your identity in its limited, wellness is in being that fully.
It's an integrity regardless of how esoteric and broad your sense of self is, is just like owning your sense of self or whatever your level of understanding of development is at any given time and fully, fully embracing and embodying that.
Even if it happens to be ugly momentarily. You know, there is a certain wellness and the acknowledgement that one is sick, right? Because fundamentally that sickness is something that like evil does not exist. You know, on a spiritual level, it's just the absence of wholeness, integrity, completeness.
So if I can identify and accept, 'Hmm, all right, today I'm having signs of mental illness. Cool. I'm well, that's the moment that I began to get well,' that is wellness because there's honesty at play that allows me to have a starting point, a point of pivot that takes me in the direction back to reality, which is wholeness and completeness and absolute perfection.
---
BREATHE:
Breath & Wellness Program
Get 25% off of the BREATHE: Breath & Wellness Program
with the code PODCAST25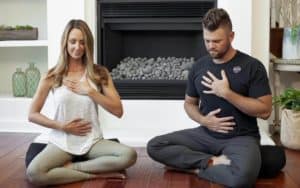 Boost your immunity and calm your mind with freedom from chronic stress in the modern world.
A 21 day guided breath and wellness program using ancient wisdom to boost your immunity, calm your mind, and give you freedom from chronic stress in the modern world.
Combining special breathwork infused with safe vape cannabidiol, BREATHE gives you everything you need to let go of old weight, de-stress, and build immunity so you can live your best life.
In this special (limited time) offer, you will receive:
– Lifetime access to BREATHE
– Free upgrades to all future training modules
– Free additional training modules
– Special VIP coupons for safe vape, essential oils, CBD, nootropics and more
– Private WF group access