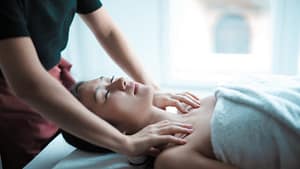 We've all had those days where we've woken up with a stiff neck or our lower body muscles are sore thanks to a tough workout. Most of us can also resonate with feeling tight and tense because of work-related stress.
Luckily, there is an answer to your muscle soreness and stiffness! The answer is massage therapy.
Massage is one of the best ways to relax your muscles and relieve tension. It's often used by athletes, sportspeople, and weight lifters as part of the recovery and rehabilitation processes. However, it can benefit the average person in a number of ways and the benefits of massage go far beyond reducing muscle soreness.
Below, we're going to cover the different types of Integrated Massage Therapies that are available in most clinics and the many benefits of massage therapy.
What is Massage and What are the Different Types of Massage?
Massage is a general term given to the process of pressing and rubbing the skin and underlying muscles.
Massage therapists can apply different levels of pressure to meet the needs of their clients. For example, a deep tissue massage requires the therapist to apply greater pressure than a Swedish massage to target the deeper tissues of the body.
The most common types of massage include:
Swedish massage – a gentle type of massage that is used to promote relaxation. It uses long strokes and circular movements.
Deep tissue massage – a more forceful form of massage that targets the deep muscles and tissues. It's often used to improve muscle recovery after injury.
Sports massage – a type of massage that is provided to athletes and gym goers to treat injuries and relieve muscle tension.
Trigger point massage – a targeted form of massage that focuses on specific areas of tight or damaged muscles.
What Are the Benefits of Massage Therapy?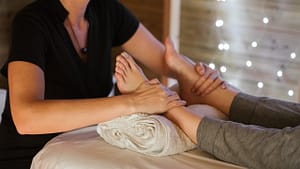 Massage is considered part of integrative or alternative medicine. It's a natural form of therapy that doesn't use any man-made medications.
Every type of massage therapy offers a wide range of benefits and can be used to treat a range of medical conditions.
The benefits of massage therapy include:
Reduced muscle tension and soreness
Increased joint range of motion
Lower pain in the muscles and joints
Improved blood circulation
Increased energy levels
Physical and mental relaxation
Reduced blood pressure and heart rate
Improved immune function
Massage therapy can be beneficial as part of a holistic treatment plan for the following conditions and ailments:
Anxiety disorders
Chronic muscle pain, such as neck pain and lower back pain
Digestive conditions
Migraine attacks and ongoing headaches
Nerve pain
Sports injuries
Stress-related insomnia
It's important to note that massage therapy is not a cure or treatment for some of these conditions in and of itself. Instead, massage is used as part of a wider treatment plan to speed up recovery and manage chronic pains.