As a therapist, Dr. Sherry Walling knew all the right things to say to help people through grief, but when she lost her father to cancer and her brother to suicide within 6 months of each other, she had the unfortunate chance to understand the true meaning of grief by encountering two types of mourning up close and personal, the slowly unfolding terminal illness and the sudden and stigmatized death by suicide.
My today's guest, Dr. Sherry, is the author of a book titled Touching Two Worlds: A Guide For Finding Hope In The Landscape Of Loss.
Welcome to Wellness + Wisdom, this is the place where we all discover how to gather, apply, and embody mental, physical, emotional, spiritual, and financial intelligence so we can live life well.
I am your host, Josh Trent, and over the past 8+ years, I have been asking a profound yet simple question all the way from episode number one to this one: How do I live my life well?
And in a true paradox, the answer to the question is typically inside of the question itself.
"You may create moments that are uncomfortable for others when you speak of the dead. The air may leave the room for a moment when as they freeze with fear and awkwardness. Their emotional uncertainty is not your work." – Dr. Sherry Walling
The Inner Meaning Of Grief
Dr. Sherry realized from her journey that we're all getting grief wrong and there is a better way. if you yourself are dealing with grief right now because of the loss of someone or the death of something my heart goes out to you and this is a perfect place for you to start to gather the awareness and courage to find this hope in the landscape of loss.
And today's episode is going to deliver a big emotional and spiritual gift of intelligence to you around this concept of living life well by its polar opposite: death… and why honoring death and being at peace and aware of the potency in the power of the acknowledgment of death can bring to you and I both.
Honoring The Death Process
In total transparency, this has been at the top of my heart for me. My mom has been in the emergency room and is now in an assisted care facility because of her health. She's in her seventies so this thought of death really crossed my heart lately and I went through an emotional process.
I wasn't really going to talk about this but why the heck not, I'm human just like you, and we all deal with things like this so whoever you are wherever you are say a prayer from your heart to Spirit to God for my mom to recover and I will say a prayer for every single person here that we embody the courage and the wisdom to honor the death process just like we honor the birthing process.
I promise you, if you listen to the end of this episode you will leave with a higher level of intelligence than when you came that is my absolute promise to you so let's drop in right now with the one and only Dr. Sherry Walling.
About Dr. Sherry Walling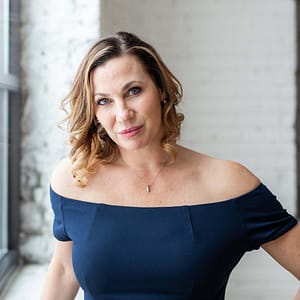 Dr. Sherry Walling is a clinical psychologist, author, podcaster, and advocate for mental health. Her podcast, ZenFounder, assists entrepreneurs and leaders in navigating transition, growth, loss, and other complex human experiences.
Touching Two Worlds, her new book, is a poetic, incisive exploration of grief and joy in the aftermath of loss. The Entrepreneur's Guide to Keeping Your Shit Together, her best-selling book, combines the insight and warmth of a therapist with the truth-telling mirth of someone who has been there.
Sherry and her husband, Rob, live in Minneapolis and spend their days driving their kids to music lessons. She has also been seen performing as a circus aerialist on occasion.