The 5 Metabolic Myths With Dr. Jade Teta
If you've been counting calories and exercising as part of a health and wellness program, there can come a time when the scale suddenly stops moving.
But beyond the horizon of the fitness industry's fetish with the scale and dogmatism of "calories in vs. calories out and "eat less, exercise more" lies the truth about what our body really craves:
Our undivided attention to the metabolism.
On episode 067, Dr. Jade Teta stops by the studio with Josh Trent to share his decades of experience working with the human metabolism, and uncover the top 5 metabolic myths that are holding people back from having real health and wellness.
By teaching us how to understand our individual and unique metabolism, Dr. Jade Teta's methods prove how we can keep our bodies, hormones, and energy in check.
Dr. Jade Teta is an integrative physician, naturopath, and personal trainer with over 25 years of experience helping people achieve their health, weight loss, and fitness goals.
He is the founder & CEO of Metabolic Effect Inc., and author of the best-selling book, The Metabolic Effect Diet, creator of the Metabolic Renewal diet program. He is also the author of the best-selling book, The Metabolic Effect Diet. He is a regular contributor to many publications, including The Huffington Post, and the Textbook of Natural Medicine, the number one natural medicine textbook used in medical schools across the country.
Jade has completed an estimated 10,000 workouts in his lifetime, and has worked with thousands of weight loss and fitness seekers from all over the world through his Metabolic Effect Clinic and online programs.
The Metabolic Effect
Each person's body is different and therefore, the metabolism of each person is not the same as another's.
Dr. Jade learned this the hard way during medical school when his busy schedule was getting in the way of him eating and exercising properly.
After months of continuously gaining weight by consuming unhealthy foods and drinking so-called "healthy" juices from places such as Jamba Juice, Jade had a revelation about metabolism. It was then and there that the theory of the Metabolic Effect was born.
When we're young, our metabolism can be easily calculated, but it's not the same as our bodies change as we age. This is when you need to become a metabolic detective to better understand your body. Discover what foods work for you and what doesn't anymore.
How to Become a Metabolic Detective, Not a Dieter
The difference between being a detective and being a dieter is that a dieter goes by rules. Unfortunately, being a dieter is not the best path to living a healthy lifestyle because all of these rules can really restrict a person as far as their diet and they can feel stuck. Once a dieter is done with one diet and its rules, they just move onto the next one hoping that it will show them the results they want.
To be a detective, you can't follow strict rules of eating only certain foods. Instead, you need to follow guidelines and structured flexibility to help find your best way to approach nutrition.
 The first step to becoming a metabolic detective and not a dieter is to understand that everyone's metabolism is different.
Once you know that, you can learn how to keep your metabolism in balance.
How to Keep Your Metabolism in Balance
There are two key ways that you can keep your metabolism in balance. One is HEC and the other is the Golidlocks Zone.
HEC or Hunger Energy Cravings is your body's way of telling you that you're in balance. Your hunger, your energy, and your cravings are there to let you know if your metabolism is in check or not. A great way to keep your metabolism in check is to make sure that you have enough protein in your diet and a good food to add to your diet is Biltong. If you were wondering if biltong is healthy, then remember that there are no preservatives and sugar and it has only 3% fat per 50gs of biltong.
HEC biofeedback clues can also include anything from exercise, mood, sleep, digestion, headaches, and libido can also tell us a lot about our hormonal balance.
The Goldilocks Zone is all about balancing the body to make sure that the metabolism is in check. Think of a seesaw that represents your body. This seesaw needs to be perfectly balanced by not taking too much, not taking too little, but just the right  amount of everything including fats, carbohydrates, exercise, stress, sleep etc.
Try to aim for your personal Goldilocks Point by seeing how many carbohydrates you can consume while still being able to show results by working out, getting enough sleep, meditating etc. to keep your HEC in check. You may have to adjust your diet by taking out different foods and adding in new substitutes to help stay balanced.
The 5 Metabolic Myths
During today's podcast, Jade and I spoke about the 5 Metabolic Myths:
1. You'll get sustainable, predictable, linear, and fair results if you follow a guidebook AND The body is able to easily burn fat and build at the same time
The truth: As previously discussed in this blog, all of our bodies are different and you can only truly find results with trial and error to try to keep HEC in check.
The body is only able to easily burn fat and build muscle at the same time if a) you're a beginner to fitness or b) you're taking bulking steroids and other supplements. Once you've been working out constantly, you'll find that your metabolism won't do both at the same time. To burn fat and gain muscle, you need to switch up with different exercises and eating habits.
2. All you need to worry about are calories.
The truth: If you cut calories on purpose, your metabolism will increase your feelings for hunger and increase your metabolic rate. 
3. Hormones work in isolation and are either good like human growth hormone or bad like cortisol.
The truth: Metabolism has multiple mechanisms that it overlaps and works with hormones.
4. There is no good way to assess the balance of hormones without blood testing.
The truth: You need to look at different areas including your blood to fully understand your hormones and what your body needs in order to be balanced. 
5. The metabolism of leading people and overweight people work in the same way.
The truth:  All of our bodies are different. Each obese person is different and each lean person is resistant.
The 4 METABOLIC TOGGLES
These are 4 quadrants to help keep your HEC in check:
ELEL

: eat less exercise less

ELEM

: eat less, exercise more

EMEL

: eat more, exercise less

EMEM

: eat more exercise more
"Your greatest difficulty is with yourself; for you are your own stumbling-block. You do not know what you want. You are better at approving the right course, than at following it out. You see where the true happiness lies, but you have not the courage to attain it." – Roman Philosopher Seneca
What You'll Hear On Today's Show
0:00 Wellness Force Opening1:45 Introduction to Dr. Jade Teta3:20
What is something that people don't know about you that's funny?
5:15  What's your own personal story about overworking and over-training? What lead you to begin learning about the metabolic effect?
10:25  What's the difference between being a detective and being a dieter?
12:50  What is HEC or Hunger Energy Cravings?
16:50 What's the Goldilocks Zone for Hunger?
20:00  How do we know when to add in starch or fat when trying to be balanced?
26:00  What are the 5 Metabolism Myths?
48:50  How do you know if you're facing Metabolic Damage? Can you reverse it?
54:00  How do our emotions come into play with keeping our HEC in check?
1:05:50   What's a Fear PR? Can you tell us about your new book?
1:09:45 Episode Closing
Resources Mentioned In The Show
Listen To Dr. Jade Share
How to become a metabolic detective
The 5 Metabolism Myths
HEC or Hunger Energy Cravings
The Goldilocks Zone
Starting Line foods (protein, fiber, water)
How do we know when to cut out certain foods to keep in balance?
How do we know to add in fat or starch?
How to create a flexible, structured diet around your personal metabolism.
How to burn fat and gain muscle at the same time.
How are metabolism adapts to our different situations.
How do you know if you're facing Metabolic Damage?
How to keep your emotions and stress in balance while keeping our HEC in check.
How our willpower and health come into play.
The law of metabolic multitasking
The law of metabolic efficiency
The law of metabolic individuality
---
Aloha! Josh here. Listen, I deeply value your thoughts, now let your voice be heard! I thrive to serve better based on your words, feedback, and requests for the Wellness Force Community. (including breaking bad habits)
---
Thanks To Our Amazing Sponsor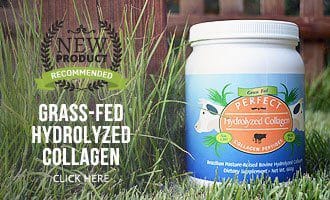 Want to avoid more trips to the store and save hundreds of dollars a year on superfood supplements?
Check out Perfect Supplements.com
Go to perfectsupplements.com/wellnessforce to get your grass-fed collagen from today's show and sign up for a free membership, plus get 10% off your entire order – just enter promo code "wellnessforce" at checkout.
Ask A Live Question For The Next Episode

Click here to leave a voicemail directly to Josh Trent to be read live!

Get Your Free Audio Book
About The Author, Lauren Bryant, Podcast Production
Lauren Bryant
is the Podcasting Assistant and Show Notes Writer for Wellness + Wisdom. She has a BBA in both Marketing and Spanish for Business as well as certificates in Advanced Business Communications and International Business from the University of Wisconsin- Eau Claire.
Lauren's wellness journey began at a young age when she joined her local YMCA swim team, The Wave, of La Crosse, WI. One of the most profound views on wellness that anyone has said to her was when she was an assistant swim coach for that same YMCA swim team.
One day during a practice, former head swim coach, Jon Brenner, shared with her that the most important thing about coaching the swimmers was that "It doesn't matter if they become the best athletes in the world. What's important is that we give them the tools and guidance they need to live a healthy, active lifestyle for the rest of their lives."
Since hearing those words, she has taken it to heart to not only focus on continuously living her own healthy lifestyle, but to help others pursue their wellness goals as well.
Lauren is not only an avid swimmer, but a fan of running, yoga, cooking, and doing any activity outside that involves being surrounded by nature. In the Fall of 2014, she completed a long-awaited goal of walking the Camino de Santiago in Spain.
According to Lauren, wellness is about finding gratitude and joy in doing any type of physical or self-care activity that we love. Wellness means providing ourselves with self-love, good nutrition, and the inner peace that our individual minds and bodies need.