Ted Ryce: How To Deal With Stress & Overwhelm
"Legendary Life sounds better than Legacy Life, but "legacy" is the word that I think about when it comes down to creating an ideal life. What do you want to be remembered for? For me, especially with everything that's happened with my family, I want people to feel like I really made an effort to make a positive impact. I struggle sometimes, but I know I'm on the right path to living a Legacy Life." – Ted Ryce
What does living a legendary life mean to you?
In Wellness + Wisdom 176, Personal Trainer, Peak Performance Coach, and Host of the Legendary Life Podcast, Ted Ryce, returns for the third time to share personal experiences and his view on what it means to leave a legacy, find a purpose, and overcome feelings of both stress and overwhelm.
It might feel like you're the only one, but the truth is that you're never alone when you face inner struggles and frustration. Just like you, everyone is facing their own demons and trying to find happiness.
By the end of this episode, you'll be equipped with the best of the best wellness and self-care practices to support better living. 
Create a Legendary Life
Learn more about how to create and live a Legendary Life with Ted Ryce by taking part in either:
One-On-One Coaching
Group Coaching
Corporate Wellness
Free Webinar Training
Or listen to the Legendary Life Podcast
With Ted, get ready to discover a revolutionary fat loss method you can use to burn fat, build muscle, and get the lean body of your dreams 3x faster than traditional methods.
Plus, learn why "cookie cutter" one-size-fits-all diet and exercise programs only lead to failure (and how you can customize a plan that's tailor-made for your age, gender, and activity level).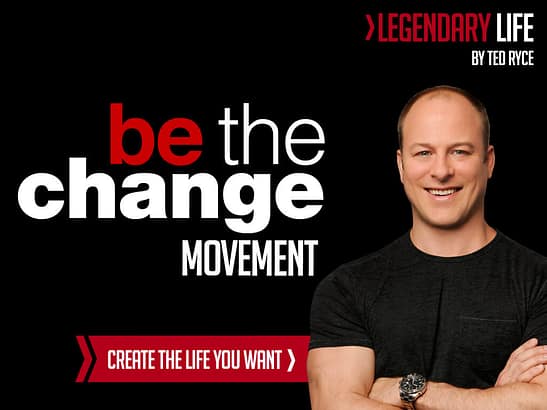 Listen To Episode 176 As Ted Ryce Uncovers:
Will you truly learn what stress and overwhelm is once you're in your 30s and 40s?
The busy lifestyle that entrepreneurs face as they continue to grow their businesses.
How he sets up his day to take breaks from work and how he utilizes his free time each day.
The injury that left him bedridden for two months and how that experience changed his focus on life.
His decision for leaving Miami Beach for Thailand this year.
Why stress doesn't have to define who you are and what you do with your life.
How you can figure out what approach to getting healthy is best for you and your unique lifestyle and needs.
His own social anxiety and what daily habits or eating patterns worsened it for him to the point of insomnia.
Why where you live and the people you're around have an incredible impact on your health
How you can continue to lead a legendary life throughout your lifetime.
What it means to leave a legacy behind and what he wants to be remembered for.
How do you know whether or not you're on the right path in life?
Why he wants to move abroad to help grow his online entrepreneurship business.
Josh's practice of going on a date with himself by exploring his emotional inventory once a month.
The importance of observing your emotions and understanding what's going on with yourself below the surface.
Purpose of not seeing workouts as not a check out from reality, but a check in with yourself.
The power of now and trusting that everything is going to be okay as far as feeling safe and secure.
Power Quotes From The Show
"My injury lead me to realize that I needed a huge change. I've been in this same environment for so long that I'm actually becoming more and more negative about where I live. I don't feel like I'm in the right place anymore and so I'm ready for a new challenge." – Ted Ryce
"Sometimes our greatest fear can be our greatest teacher. In addition, it's only natural that we allow change to happen." – Josh Trent
"When we're in our 40s, 50s, and beyond, HIIT training isn't the answer to curing stress nor is steady state cardio. If we're talking about just being happier and healthier, it's really about getting that movement throughout the day. It doesn't put a lot of stress on our joints like running or burpees and you really notice the difference." – Ted Ryce
"The feeling of being alive is more important than just living. With "living," you're going to be safe and stay alive, but to really feel alive, that's going to produce anxiety, stress, and moments of overwhelm. I'd matter much live that way where there's uncertainty and I'm at least moving in the direction I want to go." – Jost Trent
"Despite our beliefs, we're not in control. We're not these autonomous, free-willed human beings that we'd like to believe we are. There's constant pressure from our wiring to react in certain ways to different scenarios. We're fighting with ourselves all the time." – Ted Ryce
Links From Today's Show:
About Ted Ryce
Personal trainer, peak performance coach, and podcaster, Ted Ryce, has overcome a tremendous amount in his quest to live a legendary life.
Ryce has worked with Fortune 500 CEOs, busy professionals and celebrities, including Richard Branson, Ricky Martin and Robert Downey Jr. He helps his clients develop and stick with high-performance habits that help them manage stress and adversity and lead more successful lives.
His philosophy is that being a high-performance person, one who chases and achieves their biggest goals isn't a luxury, it's a necessity to survive and thrive in the modern world.