Learn how to set yourself free when you stop praying to the "growth god."
Today we are going to be talking about pain. An inevitable experience that we have as human beings here on this planet.
Ancient Masters have told us for Millennia that pain is inevitable. Unavoidable.
Yet, it is suffering that is a chosen path by many.
What do I mean by this?
In episode 406, our guest Connor discusses pain. But, more importantly, the intelligence in our pain. Especially when we've spent years praying to the growth god.
Even though we speak specifically to men on the podcast, these lessons are just as powerful for women. We're going to explore the many faces and facets of Shadow Work.
I am a massive advocate of the work of Carl Jung. The way that our subconscious mind directs our entire life. Without us knowing about it.
Integrating The Shadow Self
Our subconscious is the real hidden key to living our life well. The message of this podcast and the mission that I stand for in this community. How do I discover? How do we find out physical and emotional intelligence so we can live our life well?
Today I bring you the Founder of Man Talks and the host of the Man Talks podcast.
He has learned over decades to integrate his trauma, shame and denial—all the shadowy parts of himself. Integrate them. 
He has spent thousands of hours learning. Training, consulting with psychologists, historians, neurologists and authors.
He has trained for years under mentors and leaders in Jungian Psychology, somatic therapy. He apprenticed under a disciple of Carl Jung himself. This is Connor Beaton. A friend and a new father like me.
If you don't know, my baby boy Novah is here in the world. It wasn't the birth story we wanted. But, he is everything I could have ever dreamed of, so please take a deep breath and help me welcome my son Novah into the world.
Stop Praying to the Growth God
It's perfect timing because we're going to talk today about how to be a great man. Be a pillar of leadership in your Community.
We will learn from Connor about his signature process when it comes to his own rock bottom. How he has developed a curriculum and a movement that believes our pain has its wisdom.
As promised, unpack the many layers of the Shadow. Healing the self. How to begin Shadow Work. Why the War of the Sexes is over.
This is the concept I have been meditating on a lot lately. I am fighting against something, or am I standing for something.
Any kind of War only exists because of hatred. Constriction feeds the fire of that war. As Connor expresses, as I believe, if we all took a deep breath and stood for health, stood for wellness, stood for love, stood for expression.
Instead of trying to fight. Fight world hunger—fight cancer. Fighting energy creates more fighting.
Tune inwards and stop praying to the growth god.
Let's learn from this wisdom with Connor. I love this approach to life and fatherhood. You're going to get a ton from this episode if you are working on your emotional intelligence.
Dive in and listen to Episode 406 of the Wellness Force podcast.
---
Paleovalley's Apple Cider Vinegar Complex
Save 15% on your order with the code 'JOSH' at wellnessforce.com/paleovalley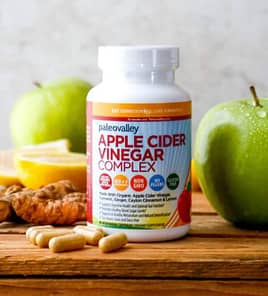 Introducing a powerful organic blend of apple cider vinegar and four more gut & health supportive superfoods.
Paleovalley Apple Cider Vinegar Complex is a powerful aid to get organic apple cider vinegar into your body faster, easier, and without having to tolerate the taste.
Their Apple Cider Vinegar Complex also contains four additional superfoods shown to support gut health, inflammation reduction, weight loss, and blood sugar stabilization. Unlike other similar products, they use all organic ingredients in order to avoid the pesticides and herbicides so prevalent in our food system today.
They use gentle processing in an effort to preserve as many of the unique and fragile nutrients found in apple cider vinegar and these other four superfoods as possible.
About Connor Beaton
Connor Beaton,the founder of ManTalks. He was raised to believe that being a man meant you had to follow certain rules. The most notable one is like the first rule of Fight Club: don't talk about it. For most of his life, he believed all men had the same rule. Shut up and deal with it. Man up.
Over the next few years, he learned to take his trauma, shame, and denial—all the shadowy parts of himself—and integrate them. He spent thousands of hours learning and training. He consulted psychologists, historians, neurologists, and authors. Connor trained for years under mentors and leaders in Jungian psychology, somatic therapy, and holotropic breathwork. He even apprenticed under a disciple of Carl Jung himself.
In 2014, Connor founded ManTalks as a grassroots movement to further the cause: giving men the tools and training to create a truly self-led life.