"To go and spend time in nature; amongst plants and trees is one of the most balancing and healing things that you can do. The human vagus nerve is 400-500 million years old whereas our human brain is only about 1 million years old. So, our body and our autonomic nervous system respond to these cues of noise and sound in a profound way." – Stefan Chmelik 
Wellness + Wisdom Episode 484
Inventor and Co-Founder of Sensate, Stefan Chmelik, shares how their device helps heal anxiety + brings you back to a state of equilibrium, the importance of building antifragility in our modern world and how to do that, why it is so vital to spend time in nature and how Sensate is specifically designed to bring this specific healing power to people who live in large cities.
As a collective, our stress levels are at an all-time high.
What can we do to heal the impact of day-to-day overstimulation?
Find out how Sensate, essentially a healing singing stone, uses infrasonic resonance, vagus nerve stimulation, and soundscapes to bring relief to your nervous system.
To go and spend time in nature; amongst plants + trees is one of the most balancing and healing things that you can do. Our body + autonomic nervous system respond to these cues of noise + sound in a profound way.' - Stefan Chmelik @MySensate
Click To Tweet
---
SENSATE: Your Key to Calm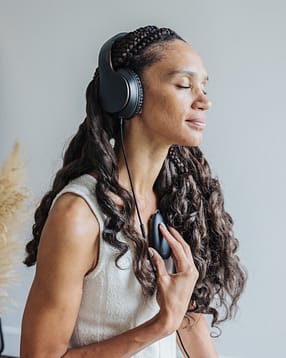 For many of us, our body's built-in stress management system is in overdrive. With a nervous system chronically stuck in fight/flight/freeze mode, your body is not receiving adequate time to rest and recover from everyday stressors.
Sensate uses the natural power of infrasonic resonance to calm your body's nervous system, providing immediate relief from stress & anxiety while improving sleep.
Infrasonic Wave Technology
Sensate's novel patented technology was designed to send infrasonic waves through the chest, to reach the vagus nerve that sits deep in the core of our nervous system. By speaking to our body's command center, we can control how we respond to all the positive and negative things that we experience each day.
Together with the specially composed hemispheric audio within the app, users report feeling calmer from the very first session.
Stress, meet science
A groundbreaking innovation in wellness technology, Sensate uses the natural power of sonic resonance to calm your body's nervous system, providing immediate relief and long-term benefits from regular use.
With Sensate you will be able to:
Calm

your nerves

Improve

stress resilience

Increase

Heart Rate Variability (HRV)
---
Listen To Episode 484 As Stefan Chmelik Uncovers:
[1:30] Sensate: The Healing Singing Stone
What Sensate is and how it uses the vibration of harmonics and sound to heal stress.
The difference between vagus nerve stimulation through the ear and actual toning with Sensate which you place on your chest.
Josh's favorite feature about the Sensate device.
Whether or not the location of the Sensate device on the body and the frequency matter to the user.
Taking a closer look at just how much water is actually in our system and how both sound and frequency affect that water.
The fact that the speed of sound in water is one of the fastest momentums in the world.
Exploring the study of sound including infrasonic resonance and how it's used in the Sensate device.
The history or archaeoacoustics or sound waves, vibration, and low frequencies in the ocean, on land, and especially in a spiritual environment and traditional space such as Stonehenge.
[18:30] How to Build Resilience + Anti-Fragility
Their focus on integrative medicine at Sensate and how they've embedded that in their mission.
Why, as a collective, our stress levels are at an all-time high, and the impact of being overstimulated every day by too much information coming in and the nature of the content.
The power of building resiliency and anti-fragility for greater balance.
Consequences we are seeing in real-time due to the way that mankind has mistreated Mother Nature.
The impact of technology on humans; especially for our youngest generations.
Dangers of getting too used to the quick dopamine hits from short pieces of content like on TikTok.
What a possible solution to TikTok could look like for humanity by focusing on anti-fragility and resiliency.
The absolute truth that money and wealth do not lead to happiness.
Why Stefan believes in removing comforts systematically from your life and how to go about doing that.
How tools like a cold plunge are great for removing comforts and building up both resiliency and anti-fragility.
[27:30] Biohacking Mother Nature's Healing Powers at Home
Josh Trent: Solocast | Healing The Father Wound, 100+ Hours Fasting, Vision Questing + Being Alone With Mother Nature's Wisdom
How Sensate specifically helps people build up their resilience and anti-fragility; especially if they live in large cities and away from nature.
Studies that were done in Japan about the extremely powerful benefits of spending time in nature and the practice of forest bathing.
Why just the sounds of nature are almost as effective as being in nature.
What Josh and Stefan believe biohacking is at its very core.
Why biohacking is not for everyone because it can take a fair degree of commitment but it's a great way to put your focus, and at times money, on something else compared to healthcare bills.
Comparing the deleterious effects of alcohol, drugs, and porn that gives someone with an addiction a sense of relief and distraction vs spending the same amount of money on a device that also gives them that plus heals their body + mind like Sensate.
Stefan's personal mission to positively impact the lives of 100 million people by 2025.
A specific example of how the Sensate device helped an American veteran, who hadn't left the house in 5 years, start healing his PTSD and within 2 weeks of use left his home to have dinner at a restaurant with his family.
[37:00] Conscious Technology Use + Humanity's Next Phase of Life
The emotional blunting we are seeing being exposed in the Royal Family.
Why we do not need money and expensive things to live a happy life; having a simple lifestyle mindset will bring you great joy.
Unique scenarios and uses people have for Sensate to help them live life well and let go of daily stress.
Why Sensate doesn't recommend having children use their product but many parents are allowing them to do so.
The heartbreaking increase in anxiety we are seeing in younger people since the CV 19 pandemic began.
Why it's so important that we find a balance and a way to use technology to leverage humanity's development in the next phase of our life on this planet.
[45:40] The Research + Development of Sensate
How we can build greater stress resilience and measure it through HRV with Sensate.
Why Stefan believes that Sensate's primary use is to increase connection.
How Sensate was designed to be placed on the upper body and not as a headset to achieve their mission of boosting greater well-being for the user.
The research and development in clinics with patients that Sensate went through with their product before presenting it to the public.
Their goal to have a measurable HRV impact on the user by the 20-minute mark but it actually was 10 minutes in their research.
Why they decided not to have Sensate be a medical device but a direct-to-consumer product in order to be able to help more people as quickly as possible.
The fact that subjective wellbeing does exist from user to user, what it is, and why Stefan thinks that's extremely important.
How you can do a subjective wellbeing test on yourself each day as an opportunity to tune in with how your body + mind are feeling.
Why HRV is more complex than we could ever imagine.
[51:30] Clean Stress vs Dirty Stress
Why vagal nerve tone is an extremely beneficial metric to better understand someone's health.
Explaining the vagus nerve's direct connection and representation of gut-brain axis connection.
How improving your vagus nerve's health will positively impact the wellbeing of the rest of the body and brain.
Breaking down the difference between clean stress and dirty stress.
Why we're feeling extremely unsafe and threatened even though, in reality, we live in an overall very safe world.
The day-to-day dirty stress we may feel with emails, text messages, and work deadlines that we cannot avoid.
Exploring the fact that animals in the wild do not get PTSD because they have built-in mechanisms to shake off trauma.
The power of the breath and the fact that it is the first and last physical movement we do in life with infinite breaths in between.
What spacial sound is and how they're mixing it in with their product for a 4D sound experience with the physical sensation.
How centuries ago churches and organs were designed for spacial sound to create a sense of awe and wonder that you would also experience with Sensate.
Stefan's last pieces of advice for living life well including leading a purpose-based life.
Why we should aim for contentness, not for happiness.
Power Quotes From The Show
Many people know about resilience but the majority don't know about how to become antifragile. It's not about how much pain you can tolerate. Antifragility is the idea that you get stronger as a result of challenge. - Stefan Chmelik @MySensate
Click To Tweet
The Social Media Experiment on our Youngest Generations
"The people who design social media and games, they know what they're doing. This is a huge experiment and we are witnessing the first generation of human beings ever who we are doing this with. We have no idea really what the long-term implications are. This is why I talk about the importance of antifragility. One of the most heartbreaking things that I think is going on in the world is the epidemic of anxiety in younger people. I think it's a very difficult world to grow up in and the pandemic highlighted that even more because meaningful connection has been harder and harder to build with the rise of technology." – Stefan Chmelik
Benefits of Becoming Antifragile
"Many people know about resilience and its benefits if it's done in a non-macho way, but the majority don't know about how to become antifragile. It's not about survival or how much pain or discomfort you can tolerate. Antifragility, which is a biological mechanism, is the idea that you get stronger as a result of challenge."  – Stefan Chmelik
Experiencing the Healing Power of Nature at Home
"Most people still live in cities so how do you expose people to the healing benefits of nature? These people who live in apartments might not have a park nearby to go to let alone a countryside to go out into. There's so much research out there now especially from Japan about the benefits of forest bathing or shinrin-yoku; it is literally one of the strongest medicines. To go and spend time in nature; amongst plants and trees is one of the most balancing and healing things that you can do…
…I certainly recommend that people do it every week, even every day if they can. At Sensate, we're helping hold people by the hand and taking them down that path by including nature noises in the tracks; sometimes subliminal and sometimes obvious. The human vagus nerve is 400-500 million years old whereas our human brain is only about 1 million years old. So, our body and our autonomic nervous system respond to these cues of noise and sound in a profound way that we don't even know or can't interpret with our human brain."  – Stefan Chmelik
---
Links From Today's Show 
---
About Stefan Chmelik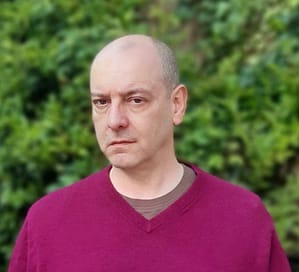 Immersed in meditation teaching and natural medicine since birth, Stefan Chmelik started his journey into meditation before the age of 10. One of the most experienced and highly qualified whole-person healthcare practitioners of his generation, and the UK's leading integrated TCM expert. He has been dedicated professionally to healthcare for the last 30 years and founded the pioneering New Medicine Group team, leading the way in integrated healthcare in the UK.
Stefan's mission now is to help people find their way towards the fullest possible health and happiness through the use of technology as an aid to profound relaxation.
Stefan's Own Wellness Journey
"My own meditation practice started over 45 years ago, and has included extended Vipassana retreats and several years spent studying under Buddhist Masters, including Ajahn Sumedho, Abbot of Amaravati Buddhist Monastery and Tibetan High Llama's. I have undertaken the Mindfulness Based Stress Reduction Programme (MBSR) training and have completed silent retreats under S.N.Goenka and Jon Kabat-Zinn, the founder of Mindfulness."
Stefan is a published and best selling author and has written or contributed to numerous articles and books on health. He is a Masters level researcher, lecturer and mentor.
His time is now dedicated to supporting global impact through improving mental health via BioSelf Technology and the groundbreaking technology he invented, Sensate.
---
Sensate – How Does it Work?