Wellness + Wisdom Episode 516
Wellness + Wisdom Podcast Host and Wellness Force Media CEO, Josh Trent, shares 11 tips on how to live your dream life.
In this solocast, you will learn:
What's stopping you from living your dream life.
Why we're focusing on our limitations and what we lack instead of possibilities.
The benefits of disconnecting from your phone.
Why you should get rid of excessive possessions.
The importance of mindfulness practice.
What role mentors play in our lives.
Why we need to set smart and achievable goals.
What to do to deepen your knowledge.
Why you should take risks and not let fear hold you back.
How to share your gifts with the world and balance work and play.
What you can do to cultivate curiosity instead of judgment.
Why you should learn to let go.
---
BREATHE:
Breath & Wellness Program
Get 25% off of the BREATHE: Breath & Wellness Program
with the code PODCAST25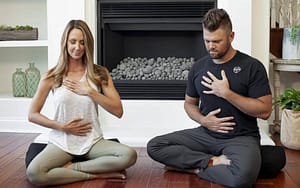 Boost your immunity and calm your mind with freedom from chronic stress in the modern world.
A 21 day guided breath and wellness program using ancient wisdom to boost your immunity, calm your mind, and give you freedom from chronic stress in the modern world.
Combining special breathwork infused with safe vape cannabidiol, BREATHE gives you everything you need to let go of old weight, de-stress, and build immunity so you can live your best life.
In this special (limited time) offer, you will receive:
– Lifetime access to BREATHE
– Free upgrades to all future training modules
– Free additional training modules
– Special VIP coupons for safe vape, essential oils, CBD, nootropics and more
– Private WF group access
---
Listen To Episode 516 As Josh Trent Uncovers The Secrets To Living A Life Of Your Dreams
So if you're ready to make a change and start living the life of your dreams today, here's what you need to do!
Do you want to start living a life full of joy and fulfillment? Well, it is possible—you just need to take the right steps.
From making small changes in your daily routine to taking bigger leaps of faith, there are 11 things you can do right now that can help you live your dream life.
1. Train Your Mind To Think In Possibilities, Not Limitations.
Stop making excuses because so and so doesn't like you, or your city doesn't have the economic support for your business, and do something.
Our potential is often limited by our own unwillingness to put in the time or effort required to get where we want to be. Instead of focusing on what's lacking in our lives, it's important that we focus on the possibilities that exist for us if we take action.
2. Put Your Phone On Airplane Mode, Or Toss Your Phone In A Drawer.
3. Get Rid Of Excessive Possessions That May Own You
4. Practice Mindfulness + Self-Care Habits Like Meditation Or Yoga.
5. Seek Out Wise Mentors Who Can Offer Guidance When Needed.
6. Set Specific Goals For Yourself.
With clear timelines so that even if something unexpected happens – you know exactly what needs to be achieved during the course of that timeframe in order for your goal(s) to become reality sooner rather than later.
Setting achievable goals keeps you motivated but also establishes an organized pathway throughout your journey which makes it easier for others (friends/family) who are supporting you along the way too!
7. Focus On Deepening Knowledge.
Hearing different perspectives such stories could potentially give someone an insight into discovering better solutions quicker thus allowing themselves to move forward quicker instead of spending months or years trying to figure out something which takes minimal effort after learning more facts related to the topic!
8. Don't Forget To Take Risks When Necessary.
9. Share Your Gifts With The World.
When you share your gifts with the world, everyone benefits. Plus in sharing your gifts with the world you start to understand more about the aspects of your soul's expression.
10. Cultivate Curiosity Instead Of Judgment
11. Be Brave And Willing To Let Go.
But it also offers us the chance to open up new possibilities, create more meaningful relationships with ourselves and others, and live a life full of adventure. Letting go is not only necessary for growth but can bring about immense joy as well.
By cultivating curiosity instead of judgment, we can learn from our mistakes and grow in self-awareness as we embark on our journey toward wellness. Wellness involves understanding that it is okay to let go when necessary and embrace change even if it means stepping outside our comfort zone.
Through bravery, we open ourselves up to countless opportunities for growth while also having the chance to live a life full of adventure!
---
Links From Today's Show 
---
Shop the BEST Organic Snacks at PaleoValley
PaleoValley's 100% Grass-Fed Beef Sticks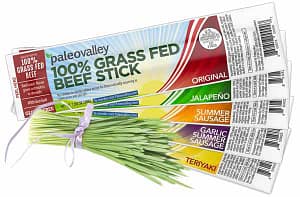 Paleovalley 100% Grass Fed Beef Sticks are the only beef sticks in the USA made from 100% grass fed/grass finished beef and organic spices that are naturally fermented.
Their 100% Grass Fed Beef Sticks are unlike anything else on the market. In fact, they were recently voted in Paleo Magazine as one of the top snacks of the year.
The reason is that they are committed to making the highest quality, clean products that are free from problematic ingredients.
Their beef comes from 100% grass fed cows raised entirely on natural grass pastures by family farmers right here in the USA. As a result they are healthy and happy.
PaleoValley's Pasture-Raised Turkey Sticks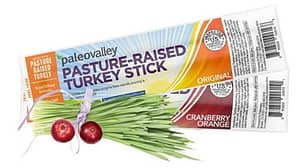 Paleovalley Pasture-Raised Turkey Sticks were created to make healthy snacking easier.
Their turkey sticks are made from turkeys who are allowed to live as nature intended… on organic grass pastures with plenty of sunshine, fresh air and room to exercise. The result of raising turkeys in such a natural way is a much healthier, clean protein with higher levels of vitamins, minerals, and omega-3s.
Unfortunately, virtually all turkey in the USA is conventionally raised with a small portion being "free range" – a virtually meaningless term that simply means the turkeys were allowed access to the outdoors. However, most "free range" turkeys only have access to an outdoor dirt field with no pasture in sight.
Their truly pasture-raised turkeys are given full access to outdoor, pesticide-free pasture with plenty of grass and insects for them to nibble on.
---
Death & Rebirth: Why I'm Saying Goodbye to Wellness Force…