"A ritual is an intention and a practice when you do it every day. We're spiritual creatures. Doing rituals grounds me and they connect me to who I am, what my intentions are for the day, and what I want to bring to the world. To alter we need to get to the altar." – Shiva Rose
Wellness + Wisdom Episode 486
Writer, mother, expert on beauty and Founder of Shiva Rose Beauty natural products, Shiva Rose, shares her experience with water rituals that connect her to God, what God means to her, her physical and emotional healing journey, how she became a business person, and why it's important to keep your three Ayurvedic doshas in balance.
How can we use beauty for healing and integrate rituals into our daily lives?
By the end of this episode, you will discover the purpose of rituals, the principles of the three Ayurvedic doshas and how our pain can be transformative.
To alter we need to get to the altar - the altar of God. We need to find what brings us to our knees. That is the very thing that will help us alter ourselves. We won't change unless we're pushed. - @TheLocalRose
Click To Tweet
---
Save 20% Off  Shiva Rose Beauty
A few years ago Shiva began her blog, The Local Rose, to get closer to the earth and all its beauty. This desire led her on a journey that included solitary walks in forests, swimming in clean seas, and meditation through her Kundalini yoga practice. What came to her one day, after a moment of stillness, was a message. The message was to bring beauty and luminosity to women in a way that was nourishing and nurturing.
Shiva's Promise
So many products women consume, even some that claim to be all natural, contain harmful and toxic ingredients. Our skin is the largest organ, and therefore what we put on our bodies and face literally gets absorbed directly through contact. Her skin care line is 100% toxic free, and without any chemicals. The rose face serum was created to bring radiance and nourishment to the face. It is made with loving intentions and in small batches to insure it's optimal integrity.
Walk in Beauty, Walk in Light
Her candle is in a toxic-free coconut based candle with rose, agar wood and vanilla. The body oils are all hand blended using unusual essential oils that benefit the skin and spirit. The glow balm and radiant rose water are recent additions that add luminous texture and are anti aging. Soon to come a few more products that use ancient wisdom and powerful ingredients.
May you walk in beauty, may you walk in the light . . .
---
Listen To Episode 486 As Shiva Rose Uncovers:
[1:30] Stepping into Authenticity through Rituals
[10:28] Courageous Women: Letting Go of Everything
[14:35] Discovering Childhood Trauma through Disease
[18:23] Beauty as a Healing Modality
[21:20] Establishing Boundaries as an Empath & Growing through Pain
[29:30] Beauty Blockages & Unexpected Life Journeys
[35:30] The Intention of Rituals
[39:19] Guidance from God
[43:30] Building the Bridge Between Business & Spirituality
[52:48] Ayurvedic Healing with the 3 Doshas
[1:01:47] Why Discipline Is Crucial in Business
[1:10:45] Freedom + Humanity's Feature
Power Quotes From The Show
Ritual is an intention and a practice when you do it every day. We're spiritual creatures. It grounds me and it connects me to who I am, what my intentions are for the day, what I want to bring to the world.' - @TheLocalRose
Click To Tweet
Asking for Guidance from God
"I talk to God, and I ask for guidance. Sometimes it's as simple as "Show me the way, God."… If you ask with sincerity, with an open heart, you will get a sign." – Shiva Rose
Healing through Beauty
"Beauty is a healing modality – that's the opposite of fear, opposite of depression." – Shiva Rose
Expression of Our Freedom
"People are being forced to become automated working slaves, and not having these expressions of 'I don't want to do this. I don't want to be in this Matrix. I don't want to work 9 to 5. I don't want to get a bunch of shots. I don't want to be a part of this system, to be forced to do things.' We're free beings." – Shiva Rose
---
Links From Today's Show 
---
About Shiva Rose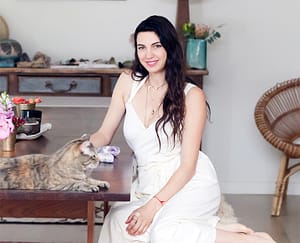 Shiva Rose
is a former actress, naturalist, and author of the book 'Whole Beauty: Daily Rituals and Natural Recipes for Lifelong Beauty and Wellness'. She is the modern alchemist using nature and beauty to create wellbeing and harmony in the world.
From Iran to Hollywood
Shiva was born and raised in Iran but escaped the country during a revolution in 1979 at the age of 10. Shiva and her family went on a difficult journey to be able to start over in a safe country, and eventually found their refuge in the United States.
Her passion for glamour and films led her to become an actress, but ever since she was a child, Shiva was an empath and felt a strong connection to nature.
Using Beauty As a Healing Tool
At the age of 25, after giving birth to her first daughter, she was diagnosed with an autoimmune disease which eventually sent her on a path as a naturalist and activist. Shiva started her blog 'The Local Rose' to celebrate a healthy and authentic lifestyle, and later on also launched a beauty brand 'Shiva Rose', creating natural and toxic-free beauty products and becoming a successful business owner.
---
Kundalini Beauty Secrets with Shiva Rose + Guru Jagat, author of Invincible Living