Robb Wolf has been a mentor to me since 2008 when I picked up a copy of his book The Paleo Solution, and since then he's come on the show 3 times and today is number 4 to talk about mental resilience. And of course, the 4th time will be the ultimate bomb drop of wisdom for us today.
We're talking about mental health sovereignty, and how to make your mind wise and strong in the midst of chaos.
It has been said that Heaven and Hell exist in the mind. I'm curious if that phrase meant the collective mind or the subjective mind because it seems to me that life is incredibly beautiful, yet we, as a society, just can't seem to get along, take care of the planet, and take care of one another properly.
You could say that we're a teenager – if you look at the evolution of humanity. And Robb is well known in the health world as one of the leading voices of ancestral nutrition after working with special warfare, government projects, and anything you could ever imagine that actually helps people get well.
Robb chose to found a group called The Healthy Rebellion which I have been a member of before personally and I would suggest you check it out.
"The woke mentality steals the ability for people to have gratitude. No matter how shitty the situation is, if we can cultivate a sense of gratitude, then it gives us the option of agency…

..I can be grateful for the challenge that I have, and then you can start moving forward, or you experience despair which means your progress has stopped and you're done. You're either going to die now or you're going to die later, but your situation isn't going to change." – Robb Wolf
---
LMNT is a tasty electrolyte drink mix that replaces vital electrolytes without the sugar and dodgy ingredients. When summer brings the heat, LMNT brings the Grapefruit Salt. For a limited time, try all the flavors with a free 8-count LMNT sample pack on any purchase.
Why stay salty?
Kickstart Your Day
Power Your Workouts
Support Healthy Fasting
Ultimate Travel Companion
Listen to Josh Trent and Robb Wolf discuss how to beat brain fog, the relationship between electrolytes and our brain's ability to function well, and why more salt is better, not less HERE
---
How To Find Resilience In Preparation For The Unpredictable
In this podcast, we're talking about the lack of information on energy and energy differences between now and the 1800s in comparison.
Rob talks to us about nuclear power and if it's really good or bad for the world. We also talk about creating a community, supporting mental health, what that looks like during the lockdown, the health, CV19 theater, and what it looks like now.
We discuss cultivating emotional support during difficult times, and we go deep into Robb's childhood, which was really powerful, and I think you will connect with this personally.
You'll learn about how you can turn your difficulties into strengths, the unpredictability of the economy and cryptocurrency – even with all of the issues with economics, food, agriculture, and all the things that really impact us right now.
I love Robb, this is his 4th time on the show! Let's drop in right now, no more waiting, with the one and only: Robb Wolf.
"There will be a lot of dislocation, a lot of pain, and the people that are going to suffer the most are the people that didn't realize this was an eventuality. They didn't realize there was a possibility of a really rainy day, and maybe a rainy month, or a rainy decade.

So they're going to be surprised, and they're going to be bitter, and that's going to make them really ineffective, strap themselves, and lean into the community that they have and help each other.

The bright side of that, people will be more networked in the real world. People will care more of each other."

– Robb Wolf
---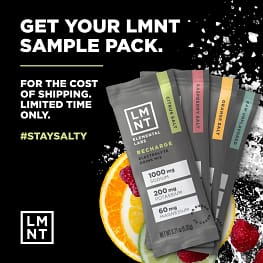 Drink LMNT
Click here to get your FREE LMNT Recharge Sample Pack
(with any purchase!)
A tasty electrolyte drink mix that is formulated to help anyone with their electrolyte needs and is perfectly suited to folks following a keto, low-carb, or paleo diet.
For a limited time, get your LMNT Sample Pack with any purchase. Limit one per customer.