Renegade Beauty: Nadine Artemis
"Renegade Beauty is really about engaging with the elements, being in contact with nature, and getting back in touch with our bodies again. We need to engage with the water, air, sun, and earth aspects of our lives. The body is alive and its cells and bacteria create billions of points of consciousness besides whats being radiated from our thoughts and heart. The ecology of our bodies is what's allowing our cells, bacteria, and our own selves to thrive." – Nadine Artemis
Modern advice tells you to pile on all the SPF you can when you go outside but what does ancient wisdom say about the benefits of sunbathing, vitamin D absorption, and avoiding toxic chemicals?
In Wellness + Wisdom episode 230, world-renowned health and wellness speaker, gifted aromacologist, author of Renegade Beauty: Reveal and Revive Your Natural Radiance and Holistic Dental Care: The Complete Guide to Healthy Teeth and Gums, and Co-Creator of Living Libations, Nadine Artemis, shares whether or not taking Vitamin D supplements is the same as spending time outside in the sun, what steps you can take to end cultural programming of beauty standards for women, and why you should be using oil-based cleansers over soaps or foaming liquids to clean your face.
Listen and learn about the healing powers of natural plants, aromas, and essential oils that you can easily add to your daily beauty routine.
Renegade Beauty
Get your own copy of  Renegade Beauty: Reveal and Revive Your Natural Radiance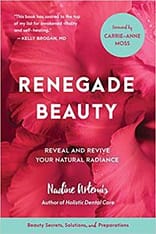 Rethink conventional notions of beauty and wellness, abandon established regimes and commercial products, and embrace your "Renegade" Beauty.
In this essential full-color guide, Nadine Artemis introduces readers to the concept of "renegade" beauty—a practice of doing less and allowing the elements and the life force of nature to revive the body, skin, and soul so our natural radiance can shine through. Anyone stuck in perpetual loops of new products, facials, and dermatologist appointments will find answers as Artemis illuminates the energizing elements of sun, fresh air, water, the earth, and plants. This book is a comprehensive resource for anyone who wants to simplify their self-care routine, take their health into their own hands, and discover their own radiant beauty.
If You Want Beautiful Skin… Do This!
Listen To Episode 230 As Nadine Artemis Uncovers:
The various findings she found in so-called "natural" beauty products that weren't natural after all.
How modern medicine and society has led to women using various, synthetic products that are actually affecting their minds, bodies, and hormones.

What an aromacologist is

and how she became so interested in it from a young age.
The concept of her new book, Renegade Beauty, and what readers can take away when they read it.
How certain sunscreens can negatively affect and impact our skin despite what "modern advice" tells us.
Why over using sunscreen can actually lead to moles and freckles and people who spend a lot of time outside are more likely to not have a skin disease.
The issue with sunscreen including all the toxins and chemicals found in the ingredients.
How sunbathing can actually be beneficial; especially in the morning or when there is cool air flowing which can help build muscle tone.
Her own morning beauty routine that she follows every day.
How natural oils have sun protection elements that work as a sunscreen and what sun harmonizing properties are included in her own product.
Why she includes the adaptogen, schizandra berry, to help with immune and natural body functions and what it has to do with sun care.
3 steps a woman can take to calm and protect her skin as well as aide her wellness routine.
The best oil-based skin cleansers and why you don't want to be washing with soaps or foaming liquids.
The moment her home and business burnt down and the emotional journey she experienced from it.
Inexpensive, natural products you can find at any store to add to your beauty routine.
How to deal with loss or stress through the healing powers of natural plants, aromas, and essential oils.
The benefits of using aromas while meditating, focus, or when you need to be creative.
Specific soaps and shampoos to add to your daily bathing routines and where to use these soaps on your body.
How she came to be Alanis Morissette's essential oil mentor.
What impact she hopes to continue to create within the world of holistic healthcare and wellness.
Power Quotes From The Show
"There's a standard, a message, and images of what "beauty" is. It changes throughout the seasons or by the magazine but it's so deep in our culture and it's growing more because of social media. There are ads and images that we're seeing all the time and we're not even really dissecting them or looking at what's influencing us. Our mission at Living Libations is to really undo that cultural programming. " – Nadine Artemis
"Our skin is designed to be exposed to solar rays; it's our form of photosynthesis and cosmic pollination. We have thousands of vitamin D receptors in our skin including places that don't even see the sun. When we receive the sun's rays through our skin, then we're able to literally fill up our vitamin D receptors. While vitamin D supplements are important, especially for people who live in winter climates, we really need to remember that the skin is designed to be exposed to the sun. We need to re-learn that we can trust this ancient design of our bodies." – Nadine Artemis 
"Essential oils help us to really tap into our own emotions, mind, and physiology in a way that nothing else can. We have the ability to experience plants and herbs through eating them or drinking tea but essential oils just have this other, unique element that quite frankly is a little bit magical." – Nadine Artemis
More Fun In The Sun
Links From Today's Show
About Nadine Artemis
Nadine Artemis
is the author of two books including Renegade Beauty: Reveal and ReviveYour Natural Radiance and Holistic Dental Care: The Complete Guide to Healthy Teeth and gums. She is the creator of Living Libations, an exquisite line of serums, elixirs, and essentials oils for those seeking the purest of the pure botanical natural health and beauty products on the planet.
Nadine is a key speaker at health and wellness conferences and a frequent commentator on health and beauty for media outlets. She has received glowing reviews for her work in the Hollywood Reporter, Vogue, People, Yoga Journal, Natural Health, W Magazine, The NewYork Times and National Post.
She opened the first full concept aromatherapy store in North America when she was 22-years old. Celebrity fans include Shailene Woodley, Carrie Anne Moss, Mandy Moore and many others. Alanis Morissette describes Nadine as "A true sense-visionary, Nadine has the greatest collection of rare and special oils… she has a wondrous knowledge and passion for it all." Aveda founder, Horst Rechelbacher, calls Nadine "a pure flower of creativity."