"We're told in the USA that we're so divided and yet if you go to any sort of normal event in the country, everyone's not really having a problem at all with each other. This work has taken me to a lot of different places including inner-city America and that has been different. I never would have done that otherwise and it has been a big eye-opener. It has really helped me to understand those environments and where people are coming from a lot better. The more I do this, of course I have my own opinions, but it's this simple – if someone has good intentions and treats you with respect, I have 0% bad-emotions towards them." – Peter Santenello 
Wellness + Wisdom Episode 477
American videomaker, traveler, and entrepreneur, Peter Santenello, reveals the truth about division in the USA, what he has learned creating his video series about life both abroad + at home in the USA, the mass media's agenda + what they're not sharing, why structure creates flow for life and how to find your spark.
Is the grass really greener on the other side? True, authentic journalism – is it dead?
These are just some of the many questions Peter helps us answer on this week's Wellness + Wisdom Podcast episode. 
By the end of this episode, you will have a clear understanding of what major news networks aren't sharing, why seeing both sides of a current event is so important, and how to live by the middle way.
There are some great journalists out there but with mainstream media, you know exactly what you're going to get. If it's the border or any current issue, with FOX or CNN, you know the story they're going to share. - @PeterSantenello
Click To Tweet
---
Shop the BEST Organic Snacks at PaleoValley
PaleoValley's 100% Grass-Fed Beef Sticks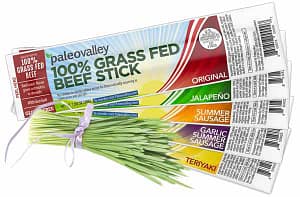 Paleovalley 100% Grass Fed Beef Sticks are the only beef sticks in the USA made from 100% grass fed/grass finished beef and organic spices that are naturally fermented.
Their 100% Grass Fed Beef Sticks are unlike anything else on the market. In fact, they were recently voted in Paleo Magazine as one of the top snacks of the year.
The reason is that they are committed to making the highest quality, clean products that are free from problematic ingredients.
Their beef comes from 100% grass fed cows raised entirely on natural grass pastures by family farmers right here in the USA. As a result they are healthy and happy.
PaleoValley's Pasture-Raised Turkey Sticks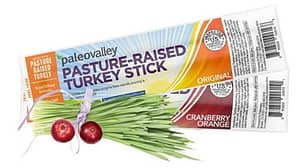 Paleovalley Pasture-Raised Turkey Sticks were created to make healthy snacking easier.
Their turkey sticks are made from turkeys who are allowed to live as nature intended… on organic grass pastures with plenty of sunshine, fresh air and room to exercise. The result of raising turkeys in such a natural way is a much healthier, clean protein with higher levels of vitamins, minerals, and omega-3s.
Unfortunately, virtually all turkey in the USA is conventionally raised with a small portion being "free range" – a virtually meaningless term that simply means the turkeys were allowed access to the outdoors. However, most "free range" turkeys only have access to an outdoor dirt field with no pasture in sight.
Their truly pasture-raised turkeys are given full access to outdoor, pesticide-free pasture with plenty of grass and insects for them to nibble on.
---
Listen To Episode 477 As Peter Santenello Uncovers:
[7:30] Making Human Connections Across Borders
[21:35] The Truth About Division in the USA
[24:00] The Grass Isn't Always Greener Outside the USA
[30:00] Mass Media's Agenda + What They're Not Sharing
[35:20] Is True, Authentic Journalism Dead?
[42:00] How to Find Your Spark
[56:00] The Laws of Nature + How Structure Creates Flow for Life
Power Quotes From The Show
We're told in the USA that we're so divided and yet if you go to any sort of normal event in the country, everyone's not really having a problem at all with each other. There's this illusion of separation that we're being fed. - @PeterSantenello
Click To Tweet
What Story Are You Being Fed?
"There are some great journalists out there but as far as mainstream media, you know exactly what you're going to get in any topic. If it's the border, if you watch FOX or CNN, you know the story you're going to get with either one. With any current issue, you know exactly what's going to be delivered." – Peter Santenello
On a Mission for Truth
"Right now with the space that we're in with politics with our two parties, Republican and Democrat, there are usually about five main issues and if you fall out of line with one them, you're going to get ostracized quickly. If I go film at the Mexican border right now, I'll be called a Trumper -people will say, 'Oh! You're going to the border, you must be a Trump supporter.' But then if I go do a docu-series about Muslims in America, all of a sudden I'm like a 'woke' guy. I'm just interested in the story and the truth; I don't really fit into either of the categories." – Peter Santenello
How to Make a Difference in the World
"I think putting forth your best effort and personally for me, exploring the human condition as much as I can and adding to the world in a positive way. My mission is to put out content that after watching makes a person go, 'Oh cool, I see this issue a different way now,' or 'This has left me in a better mood.' We're all gravitated toward certain news clips we come across on YouTube or social media and we want to watch them but afterward they leave us off in a worse place energetically than before watching them. My goal is to be the opposite of that for people who want to watch the news." – Peter Santenello
---
Links From Today's Show 
---
About Peter Santenello
Peter Santenello is an American videomaker, traveler and entrepreneur who produces videos about travel and human stories.
At the age of 25, Santenello traveled around the world for 2 years. He has traveled to 85 countries and lived in 5. Santenello makes content that focuses on human stories on his Youtube and Facebook channels highlighting locations like Ukraine, Iran, Pakistan, Saudi Arabia and the United States.
Santenello's first video series took place in the countryside of Ukraine with a family displaced from war. He also does videos about misunderstood or not so widely known cultures like the Hasidic Jews and the Amish people and topics like the US border and inner-city America.
---
Inside New York City's MOST DANGEROUS HOOD – South Bronx