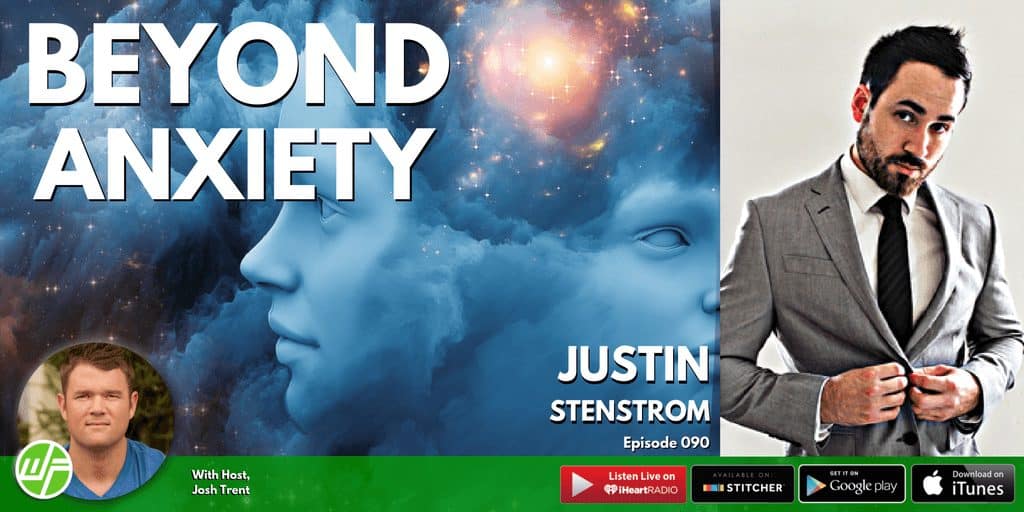 "All you have is what's going on in front of you right now. Worrying about the future is only going to cause anxiety and bring up fears. It's only going to cause you to live in a time that's not present." – Justin Stenstrom
Justin Stenstrom: Beyond Anxiety
Our past may haunt us and our future may scare us, but we must remember that what we have today is the present. When we focus on being in the present and what is happening now, we can move beyond our anxiety.
Having once spent years fight depression, anxiety, and suicidal thoughts, Justin Stenstrom is now a nationally acclaimed life coach, author, entrepreneur, and speaker. On this week's episode, Justin opens up and shares his experience about how he ended his panic attacks in order to grow to the person that he is today.
Give yourself the self-care and love that you deserve by learning about how you can beat your own anxiety, build confidence, and harness the power of small wins.
Beat Your Own Anxiety in 3 Steps
"The only thing we have to fear is fear itself" – Franklin D. Roosevelt
Even though Justin suffered panic attacks for years, he realized that they were truly a gift to help motivate himself to grow and become the person that he is today.
Determined to find a solution to end his panic attacks and irrational thinking, Justin was able to beat his own anxiety in 3 simple steps by completely shifting his mindset and the way he viewed his panic attacks.
1) Observe your thoughts and emotions
When you first feel a panic attack coming on, it's natural to want to run away from it. However, struggling with your anxiety will just make it worse for you. Rather than fighting back, simply do nothing and just observe what is happening in your mind and with your emotions.
2) Welcome the panic attack
The next step is to let the panic in and have a dialogue with it in your head. Freely welcome these thoughts of anxiety and any other thoughts and emotions.
3) Call out your anxiety and fears
Call them out and ask for more. Expose all your fears, anxiety, and concerns to come out into the open. This empowering, counter-intuitive step will help your negative thoughts, feelings, and sensations go away.
The Right Nutrition to Calm Your Mind
Calming our minds can begin my focusing on our own nutrition. Justin recommends following a healthy diet and taking supplements as needed. For example, his daily food intake often includes:
Fish
Fish oil
Fruit: Apples, Bananas
Complex carbs: Broccoli, Kale
Protein: Chicken, lean steak
Suggested supplements: Magnesium, Niacin, Niacinamide, B complex, ashwagandha, valieran root
Build Confidence & Challenge Yourself
"Do one thing each day that scares you." – Eleanor Roosevelt
We are all born with confidence, we might just not realize it depending on the environment that we are in situated in.
When we're in a comfortable environment, it's easy to be ourselves. When we're in an unfamiliar territory, it can be terrify and we feel closed to those that are around us.
You don't have to gain confidence overnight. Build yourself up overtime with little winds. In a social situation, you can start small by saying "hi" to people that you see during a walk or start up small conversations with others-your mailman, cashier, etc.
Keep track of your progress and create new challenges for yourself each week. Before you know it, all of these little winds will build up into one big wind and you will feel confident to talk to anyone.
Embrace New Situations
To help Justin get over his social fears and anxiety, he built up his self-esteem by attending a dance class with all females. It was terrify and he was always anxious before the class.
However, by the end of the class, he felt more empowered than ever before. Why? Because by getting out of his comfort zone, he was able to experience a scary situation and realize that it actually was not as bad as he thought it was.
Putting yourself in different situations can help you realize that anything is possible and there's really nothing to fear.
Tap Into Your Subconsciousness with Self Hypnosis
One way to get over fears and phobias is to use self-hypnosis and tap into the subconscious mind. This technique helps to train your mind to replace negative thoughts and emotions with positive emotions.
Some Hypnotherapists that Justin knows and recommends include:
Resources Mentioned On the Show
About Justin Stenstrom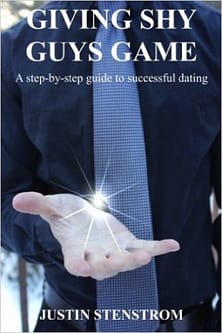 Justin Stenstrom is the founder of the Elite Man Magazine and Elite Man Podcast, author of Giving Shy Guys Game, and contributing writer to many other publications.
Justin used to deal with depression, anxiety, and debilitating panic attacks until he finally taught himself how to deal with the problem through self development.
He went on step out of his comfort zone through challenges that were for him previously unthinkable, such as dancing and acting, and become a nationally recognized dating coach
Aloha! Josh here. Listen, I deeply value your thoughts, now let your voice be heard. I live to serve the Wellness Force even better based on your words, feedback, and requests. (including how these episodes can allow you to break bad habits)
---
Thanks To Our Amazing Sponsor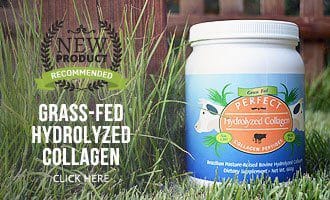 Want to avoid more trips to the store and save hundreds of dollars a year on superfood supplements?
Check out Perfect Supplements.com
Go to perfectsupplements.com/wellnessforce to get your grass-fed collagen from today's show and sign up for a free membership, plus get 10% off your entire order – just enter promo code "wellnessforce" at checkout.
---
About The Author, Lauren Bryant, Podcast Production
Lauren Bryant is the Podcasting Assistant and Show Notes Writer for Wellness + Wisdom. She has a BBA in both Marketing and Spanish for Business as well as certificates in Advanced Business Communications and International Business from the University of Wisconsin- Eau Claire.
Lauren's wellness journey began at a young age when she joined her local YMCA swim team, The Wave, of La Crosse, WI. One of the most profound views on wellness that anyone has said to her was when she was an assistant swim coach for that same YMCA swim team.
One day during a practice, former head swim coach, Jon Brenner, shared with her that the most important thing about coaching the swimmers was that "It doesn't matter if they become the best athletes in the world. What's important is that we give them the tools and guidance they need to live a healthy, active lifestyle for the rest of their lives."
Since hearing those words, she has taken it to heart to not only focus on continuously living her own healthy lifestyle, but to help others pursue their wellness goals as well.
Lauren is not only an avid swimmer, but a fan of running, yoga, cooking, and doing any activity outside that involves being surrounded by nature. In the Fall of 2014, she completed a long-awaited goal of walking the Camino de Santiago in Spain.
According to Lauren, wellness is about finding gratitude and joy in doing any type of physical or self-care activity that we love. Wellness means providing ourselves with self-love, good nutrition, and the inner peace that our individual minds and bodies need.