"If you don't go fight your battles and you're always open heart full time no matter if it kills you, if you don't go do what you're supposed to do on this planet – you have an energy inside of you and the obstacles that you face in your life are there to test that energy and if you avoid those obstacles, the energy turns in. The only choice you have is to listen to your intuition; what are you pulled to? What can't you get out of your mind? This helps lead you to your dharma" – Joseph Anew
Wellness + Wisdom Episode 468
International Speaker, Fitness Expert, Entrepreneur, Lifestyle Coach, and Founder of RUNGA, Joseph Anew, shares his own Hero's Journey including surviving several near-death experiences, how we can become an intuitive warrior, why obstacles are put in place to test our energy + purpose, and how to become a frequency of change.
Are you ready to develop the courage to face the obstacles that are part of your Soul Contract?
By the end of this episode, you will have the knowledge to grow a greater capacity for love, increase your emotional bandwidth, and follow your true brain – your heart.
You have an energy inside of you and the obstacles that you face in your life are there to test that energy. If you avoid those obstacles, the energy turns in. Listen. What are you pulled to? What can't you get out of your mind? - Joseph Anew
Click To Tweet
---
Shop the BEST Organic Snacks at PaleoValley
PaleoValley's 100% Grass-Fed Beef Sticks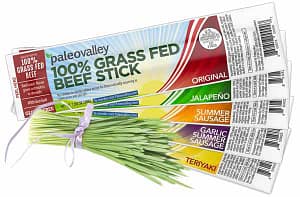 Paleovalley 100% Grass Fed Beef Sticks are the only beef sticks in the USA made from 100% grass fed/grass finished beef and organic spices that are naturally fermented.
Their 100% Grass Fed Beef Sticks are unlike anything else on the market. In fact, they were recently voted in Paleo Magazine as one of the top snacks of the year.
The reason is that they are committed to making the highest quality, clean products that are free from problematic ingredients.
Their beef comes from 100% grass fed cows raised entirely on natural grass pastures by family farmers right here in the USA. As a result they are healthy and happy.
PaleoValley's Pasture-Raised Turkey Sticks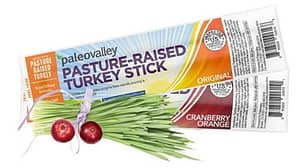 Paleovalley Pasture-Raised Turkey Sticks were created to make healthy snacking easier.
Their turkey sticks are made from turkeys who are allowed to live as nature intended… on organic grass pastures with plenty of sunshine, fresh air and room to exercise. The result of raising turkeys in such a natural way is a much healthier, clean protein with higher levels of vitamins, minerals, and omega-3s.
Unfortunately, virtually all turkey in the USA is conventionally raised with a small portion being "free range" – a virtually meaningless term that simply means the turkeys were allowed access to the outdoors. However, most "free range" turkeys only have access to an outdoor dirt field with no pasture in sight.
Their truly pasture-raised turkeys are given full access to outdoor, pesticide-free pasture with plenty of grass and insects for them to nibble on.
---
Listen To Episode 468 As Joseph Anew Uncovers:
[8:00] How to be an Intuitive Warrior Today
[15:30] Joseph's Evolution + Hero's Journey from 3 Near Death Experiences
[27:30] How Obstacles Test our Energy + Purpose
[36:30] How to Become the Frequency of Change
[42:10] The Cataclysmic Event of Leon's Birth
[54:00] Growing a Greater Capacity for Love
[1:00:45] Joseph's Top Mental + Emotional Tool Sets
[1:12:30] The Heart is the True Brain
[1:21:30] Why + How We Choose Our Life Partners
[1:32:30] The Key to Finding Purpose + Gaining Mastery
Power Quotes From The Show
When we are born, we are abundant. We are joyful, we are happy. The game, the lived experience is us going far from there and coming back. That's the duality, that's the journey. - Joseph Anew
Click To Tweet
Coming Back Home to Joy
"When we are born, we are abundant. We are joyful, we are happy. The game, the lived experience is us going far from there and coming back. That's the duality, that's the journey." – Joseph Anew
Law of Attraction vs Higher Frequency
"Between the law of attraction and sending messages on a higher frequency, the approaches are different but it's the same concept. Different approaches cater to different audiences. When you read books like The Secret or Think and Grow Rich, you're very focused on what you want and it's not that you shouldn't get granular even if you're into Dispenza but to me with Dispenza, you're looking for a more broad version of this change. A lot of people are looking for healing for example; not a blue BMW by September 20th, 2025. In my opinion, you want to become the frequency of change to see what's there." – Joseph Anew
How to Live Your Own Life
"I would tell my 17-year-old self that everything is happening on purpose. Everything in your life is for a purpose. Remember that there is no time or space in dharma, really. Right now your focus is to follow your heart, find your true friends, take good care of your body, be as physically fit as you can be in a reasonable amount of investment, and await further instructions. When we go to college and everyone has to be a doctor or a lawyer or something that pays well, you lose the magic. Everyone has their unique genius, their special gifts. For example, you could be an astronaut if you want to be but you're not supposed to be; you have a different soul contract and purpose for this world." – Joseph Anew
---
Links From Today's Show 
---
About Joseph Anew
Joseph Anew is an international speaker, fitness expert, entrepreneur and lifestyle coach. During his eight years as Head of Sport and Training at Spartan Race, Joe worked full-time with professional endurance athletes and taught seminars all over the world.
From there, Joe went on to found RUNGA, an experiential lifestyle brand empowering individuals through highly effective and sustainable practices that fuel health, wellness and performance.
His talks and teachings focus on engraining profound mindset shifts, giving audiences the courage and the tools align their actions with their objectives throughout daily life.
After a traumatic brain injury, Joe dedicated his life to finding health again, stopping at nothing to regain his potential.
Today, this experience shapes him as a coach and educator, where he believes that removing negatives and environmental detractors is a necessary step before piling on new tools and practices.
While the industry is focused on the 'sweaty and sore' scale, Joe looks at the 'health and happiness' scale as a measure of success with his clients.
Joseph is based in Austin, Texas.
---
BREATHE. | Joseph Anew | TEDxLugano