"There's always time to become a better dad. Your best impact is still right now in this moment; it can be made with your kids no matter how old they are. Men have to know themselves. This process all begins when you're willing to take a look at if you're really being present. Can you see all the parts of yourself and accept them?" – Jon Vroman
Wellness + Wisdom Episode 487
Jon Vroman is a full-time dad, author of the book, The Front Row Factor, and Founder of Front Row Foundation and Front Row Dads community. He joins us today for the second time after many years to talk about what it means to be a front row dad, the positive impact a community has on men, and why being a dad and a family man is still not considered as valuable as being a businessman.
Are you ready to redefine fatherhood and understand the importance of space in relationships?
Join Jon and Josh as they talk about the essence of Front Row Dads, the current image of an uncool dad, and how to be a family man with a business.
It's not always about learning something new, it's about remembering something true. - @jonvroman
Click To Tweet
---
Front Row Dads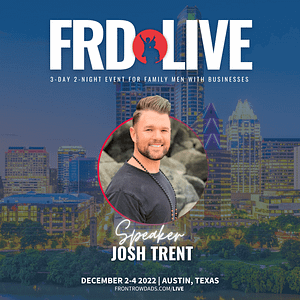 Juggling work and family life is complicated, and yet some men are winning at both.
If you're a dad who wants to be the absolute best for your family, you should check out FrontRowDads.com/live: December 2-4 in Austin, Texas.
It's the first event of its kind – designed specifically for high-performing, hard-charging dads who want to win at home, even more than winning at work.
I'll be there, and I hope you can join me!
Use "JOSH" at checkout for 10% off!
Hope to see you there!
---
Listen To Episode 487 As Jon Vroman Uncovers:
[1:30] Learning to Understand the Ego
Front Row Dads Live Event – 10% discount "JOSH"
What Jon has been up to since he was last on the podcast 7 years ago.
Discovering the authentic self and co-creating life with close ones.
Rock bottom: The strongest foundation for growth.
The difference between a dad and a father.
Doing the ego work: Understanding the ego instead of trying to get rid of it.
The Ego Castle: How children go from building ego walls to protect themselves to letting the drawbridge down and walking out to be ourselves.
Why the ego castle cannot be destroyed, stays with us our entire life, and serves a purpose.
[13:00] Jon's Journey to Storytelling
Jon talks about using storytelling to get love and attention in the past, and why he uses the truth to tell stories now.
How storytelling can be used to fulfill the need to fit in and be loved.
How Jon found inspiration in Tony Robbins.
The 4 questions a shaman would ask his patients: What makes storytelling one of the medicines?
[15:38] The Uncool Dad Stereotype
How adding the word "dad" to something makes it immediately uncool, and why Jon would like to change that story.
The current societal norm of representing fathers.
How Jon came with the idea of Front Row Dads.
[24:40] Masculine and Feminine Energies
[30:30] Reforming Fatherhood
[35:30] Creating Space in Life
[46:30] Dancing with Life: Finding Balance in Work, Family, and Marriage
[57:20] What is Real Power?
[01:05:10] Front Row Dads Live Event
[01:18:00] The Essence of Front Row Dads & Their Journey of Endless Possibilities
[01:29:45] Setting on The Healing Journey
[01:38:10] Protecting Our Children
Power Quotes From The Show
I reframed what rock bottom is in my world, and rock bottom is also a foundation. Rock bottom is the strongest foundation for growth. - @jovroman
Click To Tweet
You Don't Know What You Don't Know
"There are blind spots I'm sure I have. And I'm aware of them. That's why they are blind spots… It's recognizing that actually, you might not even know what you don't know right now. But if you have faith in community, if you have faith that by putting yourselves around other people that have honorable intentions, like we say be a family man with a business, not a businessman with a family, that is a filter for what type of person we're looking to surround ourselves with." – Jon Vroman
The Strongest Foundation for Growth
"I reframed what rock bottom is in my world, and rock bottom is also a foundation. Rock bottom is the strongest foundation for growth." – Jon Vroman
Playing With The Feminine And Masculine Energies
"The realization for me lately has been range. It has been expanding my range of possibilities, truly tapping into this. Openness, the feminine energy, this receiving energy… just letting the world give to you, fully receiving, curiosity…
I also thrive in the masculine, what I would call this driving energy where I want to be in my car going somewhere, focused, with a direction, achieving… And how fast can I move back and forth between those energies? How can I accept those energies and play with them?" – Jon Vroman
---
Links From Today's Show 
---
About Jon Vroman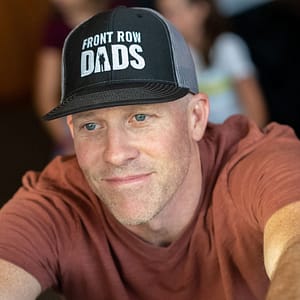 Jon Vroman is a family man, motivational speaker, author, philanthropist, personal coach, ultra-marathon runner, and founder of Front Row Foundation and Front Row Dads community.
In 2005, he co-founded Front Row Foundation to help create front row moments for people facing life-threatening illnesses. To date, the charity has raised over $1,000,000 and has been instrumental in over 60 life-changing experiences.
The same year Jon started Front Row Global, where he travels across the country to speak with college students and corporate teams about how they can move from the back row of life to the front row. The mission is to capture the key ideas individuals need for their personal growth and change through the idea of being a participant, not a spectator. This encourages individuals to step out of their comfort zone and live life to the fullest.
In 2017, Jon published The Front Row Factor: Everything You Can Learn About Life From Those Fighting For It, a story about the magic that happens when good business is fully integrated with good work.
---
Living Life In The Front Row | Jon Vroman | TEDxTraverseCity