"You may create moments that are uncomfortable for others when you speak of the dead. The air may leave the room for a moment when as they freeze with fear and awkwardness. Their emotional uncertainty is not your work." – Dr. Sherry Walling
Wellness + Wisdom Episode 515
Dr. Sherry Walling, a psychologist, author, and founder of the ZenFounder podcast, joins Josh Trent on the Wellness + Wisdom Podcast to talk about the lessons she learned from her own grieving process and what you can do to cope with the loss of your loved one.
Do you know how to cope with your own grief or the grief of others?
Join Dr. Sherry Walling and Josh Trent as they discuss the stages of grief, how to cope with the death of a loved one, why we shouldn't identify with our emotions, and what it means to time travel for our mental health.
Anger is right alongside longing. We're angry when we have a need or a desire that's unmet. - @sherrywalling
Click To Tweet
---
Listen To Episode 515 As Dr. Sherry Walling Uncovers:
[1:30] Knowing God
[10:00] The Stages Of Loss
[14:05] Losing A Loved One + How To Cope With The Discomfort Around Death
[22:42] We Are Not What We Feel
[29:40] Listening To Your Body + How To Choose Your Therapist
[39:50] The Privilege Of Witnessing Death And Birth
[48:10] Time Traveling For Mental Health
Power Quotes From The Show
Two dualistically opposed emotions can exist at the same time. We can live in joy and grief at the same time. - @sherrywalling
Click To Tweet
Having Uncomfortable Conversations
"If I tell you a painful story and suddenly rush to all that I learned about it and all the reasons it's ok now, I skip through the painful moment. The emotional quality of the conversation becomes relief instead of discomfort. It's ok to let it be uncomfortable for a while and let people hold that space." – Dr. Sherry Walling
Birth And Death
"Birth and death are edge states. They are moments in our lives that don't happen very much but they get to the depths of what it is to be human, to be in love, and to show up for people in their most vulnerable moments." – Dr. Sherry Walling
The Challenge Of Middle Adulthood
"There's a duality between the world of aliveness and the world of the dead. Many of us will at times in our lives be called to move back and forth between those energies, that's the challenge of middle adulthood. You're in support and in connection to parents and elders who are further along the journey of death, and young ones who are just beginning life. You're a bridge between the world of becoming and the world of ending." – Dr. Sherry Walling
---
Links From Today's Show 
---
About Dr. Sherry Walling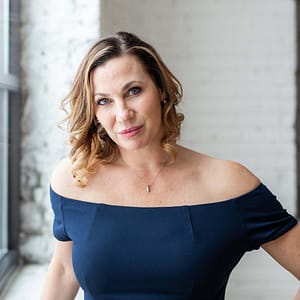 Dr. Sherry Walling is a clinical psychologist, author, podcaster, and advocate for mental health. Her podcast, ZenFounder, assists entrepreneurs and leaders in navigating transition, growth, loss, and other complex human experiences.
Touching Two Worlds, her new book, is a poetic, incisive exploration of grief and joy in the aftermath of loss. The Entrepreneur's Guide to Keeping Your Shit Together, her best-selling book, combines the insight and warmth of a therapist with the truth-telling mirth of someone who has been there.
Sherry and her husband, Rob, live in Minneapolis and spend their days driving their kids to music lessons. She has also been seen performing as a circus aerialist on occasion.
---
Dr. Sherry Walling: The Secret Weapon You Can't Afford to Waste