"Melatonin is an absolute miracle molecule. We would not be able to enjoy life without this molecule. Every cell in the body makes it and it's there within a structure called the mitochondria. The structure is vital because the mitochondria is where rubber meets the road as far as making energy in the body." – Dr. John Lieurance
Wellness + Wisdom Episode 436
Naturopath & Chiropractic Neurologist at Advanced Rejuvenation and Ultimate Cellular Reset, Author of Melatonin: Miracle Molecule, and of MitoZen, Dr. John Lieurance, shares his healing protocols including the Meditation Mist, how the substances of oxytocin and hapé can improve sinus health plus calm the nervous system, how our nerves work and what they require for activation and fuel, as well as the myths and truths of melatonin.
What comes to mind when you hear the word, "rejuvenation"? What does it actually mean to you?
Maybe it makes you think of a return to innocence or about how we can end inflammation for good?
With a myriad of groundbreaking and cutting-edge scientific practices including a nasal spray that I have been using for the last 3 months, Dr. John is changing the way we heal chronic disease.
Melatonin is an absolute miracle molecule. We would not be able to enjoy life without this molecule. Every cell in the body makes it and it is key for helping produce energy in the body's mitochondria. - Dr. John Lieurance (@awcsarasota)
Click To Tweet
---
MitoZen Nasal Spray + More!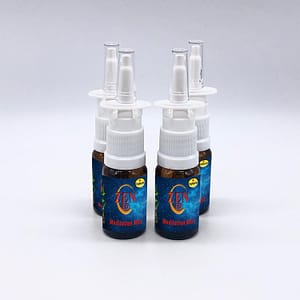 Every single night before we go to bed, my partner Carrie Michelle and I perform a beautiful ritual using the ZEN extra strength + Oxytocin.
It is what I believe the world needs right now: a centered, calm, and powerful third eye opening meditation tool that will change the fundamentals of your practice.
ZEN Nasal Spray™ is the strongest formula, and is made from different medicinal plants from the Amazon to calm and quiet the mind, as well as to reduce anxiety and stress.
The ZEN EO Nasal Spray™ is made with Ultra Nano Liposomal terpenes & essential oils. ZEN CBD Nasal Spray™ contains essential oils, terpenes and full spectrum NeuroHEMP™.
The Zen formulas are powerful in the ability to calm the mind and allow for maximum vagal activation (stimulation of the vagal nerve).
You will experience a powerful afterglow effect, following the initial temporary burning feeling after administration.
*Go to wellnessforce.com/MitoZen to get your ZEN extra strength + Oxytocin.
*Be sure to select ZEN extra strength + Oxytocin at the cart.
---
Listen To Episode 436 As Dr. John Lieurance Uncovers:
[1:30] Advanced Rejuvenation Healing Protocols
[16:00] Hapé, Meditation Mist & Breathwork
[28:30] Understanding & Strengthening The Nervous System
[37:30] Going With The Flow of Life
[43:30] Myths and Truths of Melatonin
[55:30] The Importance of Sleep to Detox The Brain
[1:07:00] Melatonin & Our Pineal Gland
[1:15:00] Coming Back to Homeostasis
[1:23:30] The Future of Naturopathic Care
[1:36:30] The Beneifts of NAD and NAD+
Power Quotes From The Show
All diseases are rooted in one issue which is an energetic, metabolic concern. It's the ability of the cell to derive energy from sugar and oxygen. When this system is not efficient, there is a lot of pollution. - Dr. John Lieurance (@awcsarasota)
Click To Tweet
The Root of All Disease
"All diseases are really rooted in one core issue which is an energetic, metabolic concern. It's the ability of the cell to derive energy from sugar and oxygen. This is either efficient or not efficient; when it's not efficient there is a lot of pollution that starts to accumulate within the body and inflames it. All forms of stress are basically going to relate to some sort of inflammation. There is a fingerprint of every type of stress and how it inflames the body and those are a set of cytokines. A sunburn will have a different of cytokines than COVID-19 or a parasite infection in your gut." – Dr. John Lieurance
The Business Side of Sickare
"Emergency medicine is a whole different deal; if I get a heart attack, I want to to go the hospital. However, if I have a chronic disease, I'm certainly not signing up to go on XYZ ten, twelve different medications for the rest of my life because it's not treating the problem. If you do that, you're basically just keeping the body in a chronic state of disease which brings us to look at the business side of sickcare. If companies are driven to come up with solutions for you that keep you in a chronic state of disease, they're not motivated to find solutions that will cure it because then they would lose the patient. There are dozens of great solutions that are being shelved because then they wouldn't make more money off of people. It's a crime." – Dr. John Lieurance
Activating the Parasympathetic Nervous System
"Your autonomic nervous system consists of the parasympathetic and sympathetic nervous systems. We certainly don't need more of the sympathetic nervous system – this is your fight or flight zone and we've got enough stress already. What we really want and what we really need is more of our parasympathetic nervous system. This is the resting and digesting area but it is also the part of the nervous system that lights up when we feel more grounded and connected to Source. It helps you feel good and relaxed and experience bliss. We want to support that and when you use the ZEN nasal spray, it's a powerful activator to the vagus nerve which is the primary nerve that carries the parasympathetic nervous system. Like breathwork, it's a window to actually having some control over the autonomics." – Dr. John Lieurance
---
Links From Today's Show 
---
About Dr. John Lieurance
Naturopath & Chiropractic Neurologist, Dr. John Lieurance, has been in private practice for over 27 Years. Currently with Advanced Rejuvenation, a Multi Disciplinary Clinic, with a focus on Alternative & Regenerative Medicine, Naturopathic Medicine, Chiropractic Functional Neurology, Functional Cranial Release (FCR), Lumomed, Lyme Disease, Mold Illness and many other Neurological Conditions.
His treatments have been proven very successful for treating many chronic neurological and chronic infection conditions. He believes that toxins and infections are at the root of many conditions including Autoimmune, Parkinson's, Alzheimer's, Inner Ear Conditions, and most Degenerative Neurologic Conditions.
Books byDr. John Lieurance
He is the Author of Melatonin: Miracle Molecule and he's working on his second book on endonasal cranial therapy. As the developer of Functional Cranial Release, he teaches as well as certifies these methods to doctors around the world.
MitoZen Scientific
He is also the Chief Scientific Officer of MitoZen Scientific, a cutting-edge health care technology company that has a focus on powerful delivery systems such
Many of the products created are designed to be used for support for alternative practitioners to apply to chronic conditions such as mold toxicity (CIRS), heavy metal toxicity, autoimmune conditions, neurological diseases, and chronic inflammation.
Also, many "BioHackers" find them helpful to enhance cognition and physical performance!
Ultimate Cellular Reset
He is the Founder of UltimateCellularReset.com, a web-based educational portal, which sends out weekly videos on health and wellness tools for overcoming disease, longevity and vitality.
He has also contributed and appeared on many media outlets, and has been on the Documentary "Pain Revealed", ABC 7 news, SNN news, as well as on popular podcasts like Ben Greenfield Fitness and CellTV with Dr. Dan Pompa.
---
Could it be Mold not Lyme?