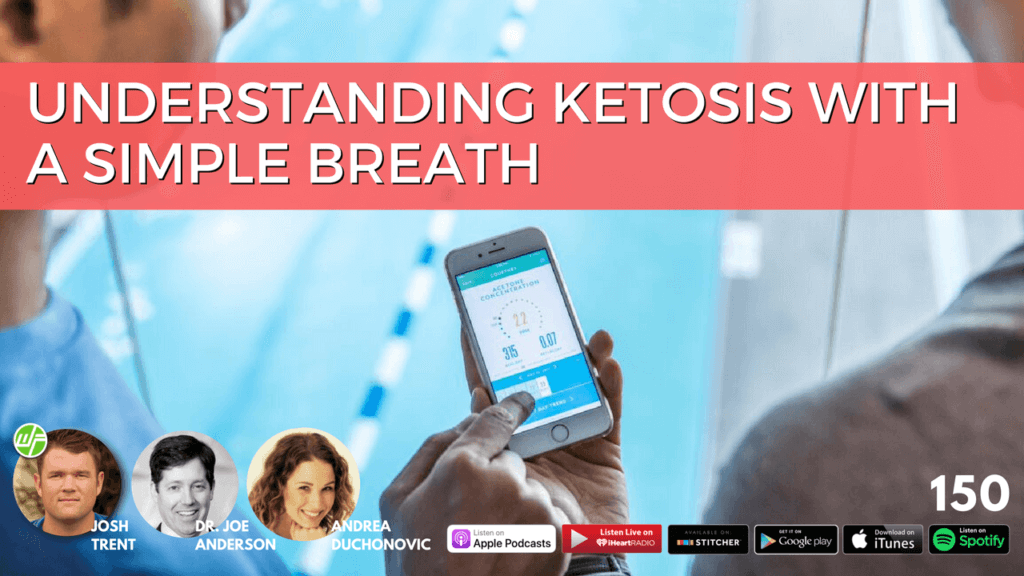 Dr. Joe Anderson & Andrea Duchonovic: Understand Ketosis With A Simple Breath
"We all have a different body and metabolism that can change from day to day. LEVL allows you to take measurements throughout the day to actually see where your fat metabolism is at and what your body is using for fuel. So, instead of changing your whole lifestyle, you can adjust one thing at a time and see how that affects your levels each day."  – Andrea Duchonovic
Gone are the days of testing ketone levels by solely relying on blood meter devices.
Rather than going the route of pricking your finger for blood measurements to test beta-hydroxybutyrate or BHB, you can now simply breathe into a device to test your acetone levels. With a single breath, you can biohack your way to become the healthiest version of yourself.
In Wellness + Wisdom 150, both Dr. Joe Anderson, Head of Clinical Science, and Andrea Duchonovic, Territory Account Manager, of LEVL share how this breathing device is changing the way you can track your ketone levels so that you can live your most optimal, healthy lifestyle.
Discover who benefits from following a Ketogenic diet and why a breathing device is optimal for keeping track of your weight loss, brain function, and energy levels.
Use Code "wellnessforce" for $25 off a LEVL Device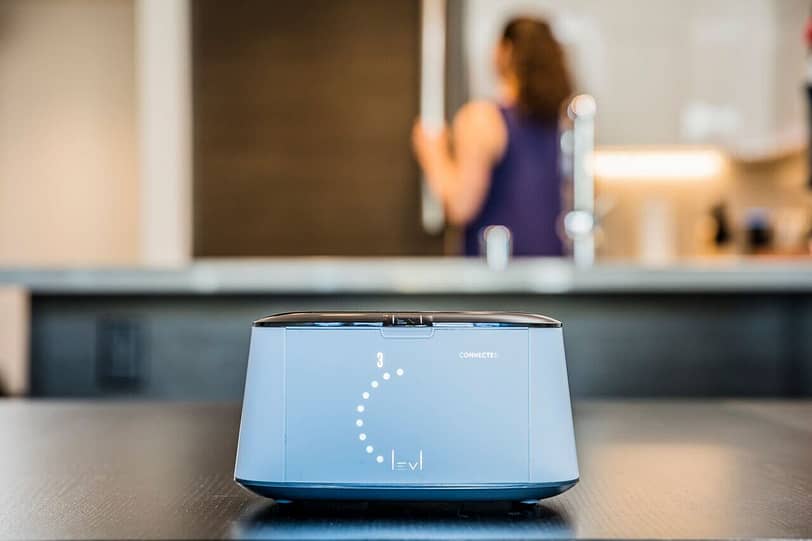 'Don't take that LEVL number and judge yourself. That measurement is not who you are, it's who you were before. Every measurement and number from any device about your body today is a good number and measurement.' - Dr. Joe Anderson @LEVLnow
Click To Tweet
How LEVL Works with the Body
https://www.youtube.com/watch?v=ZHKXkAlPsIg
Listen To Episode 150 As Dr. Joe Anderson and Andrea Duchonovic Uncover:
How LEVL measures the state of Ketosis or fat metabolism.
Who is Keto for? Who should avoid following a Keto lifestyle?
Measuring with blood vs. breath and acetone levels- which one is more accurate for measuring ketone bodies?
What is the physiology between sleep and how we can burn more fat?
How long has this type of breath technology been around? What's the science behind it?
What successful experiences have people had with using LEVL?
How much sugar is too much to affect a Ketogenic diet?
Andrea's experience with a sluggish thyroid and adrenal fatigue.
Views on using exogenous Ketone powders and tracking the breath to try to live a healthy lifestyle.
How can exogenous Ketone powders be beneficial for brain function; especially for Alzheimer's and dementia, but not for brain cancer.
How you can adjust and improve your lifestyle by using the LEVL device.
What are some key factors we should look at when making adjustments to our health and wellness?
What's coming up next for LEVL in 2018?
Common misconceptions about breathing technology
How will LEVL help with personal coaches or trainers work and connect with their clients.
Power Quotes From The Show
"If you feel great, then keep doing what you're doing. If you don't feel so great, then change something.' - Andrea Duchonovic of @LEVL
Click To Tweet
"It turns out that the Keto diet is great for therapeutic uses as well. There is some evidence to demonstrate that an elevated level of ketones can help with therapy of cancer, Parkinson's, and Alzheimer's. However, even though there will be a range of people who have a disease and benefit from ketosis, there will be those who do not benefit from it." – Dr. Joe Anderson
"My keto-flu period lasted a long time. It lasted from two weeks to a month and so I tell people to give it one to three months. I was in a state of nutritional ketosis, but I wasn't feeling good and I almost wanted to give up, but I couldn't give up on myself that easy. I've been a sugar burner all my life and I knew that I wasn't going to be able to switch to becoming a fat burner in just a month." – Andrea Duchonovic
"When you are losing fat, but you haven't been keto-adapted for a long period of time, eating foods with sugar can really hit you hard. Whereas, if you're around six months into a keto program and you're eating high fat and low sugar, you might be able to recover more quickly from eating a slice of cake because the machinery inside your body has already been ramped up. " – Dr. Joe Anderson
Links From Today's Show:
About LEVL
LEVL is a cutting-edge health and wellness product developed by Medamonitor LLC. The company took root as an incubation of Seattle-based GM Nameplate, a decades-old, International company that is revered for consistent, quality manufacturing in highly-regulated markets. For the past seven years, Medamonitor has developed a groundbreaking device that arms every person with a reliable method to predict the body's individual fat burn based on half of a century of proven breath science research. From a single idea to development to manufacturing, the LEVL device is the product of creative minds united by our mission to unlock the mystery behind achieving health and wellness goals.
About Dr. Joe Anderson
Dr. Joe Anderson, Ph.D., Clinical Science  is one of a few breath science leaders in the world, bringing deep experience in pulmonary physiology and breath research science to the LEVL team. He has led the development of breath protocols, performed clinical trials, and structured our science and physiology goals at LEVL, taking the research he performs and helping us translate that into protocols. Prior to joining LEVL, he managed clinical research at a VC-funded company where he guided the development of a medical device through clinical and regulatory hurdles and on to commercialization.
He is the owner of Anderson Bioscience and is an affiliate faculty member in the bioengineering department at the University of Washington, where he also obtained his Ph.D. in Chemical Engineering. He has published over 40 peer-reviewed publications. Joe's strategic vision and deep expertise have been an immense driver in LEVL's successes.
About Andrea Duchonovic
Andrea Duchonovic is a wellness enthusiast and Health Coach through the Institute of Integrated Nutrition. Andrea is an Account Manager at LEVL (www.levlnow.com) and works with Health and Wellness Professionals across the nation coaching them in the use of LEVL for personal and client metabolic data tracking. She also focuses on building partner relationships where LEVL provides unique lifestyle insights to hundreds of people.  Her personal wellness story, passion for the health industry and her understanding of ketosis and fat loss allows her to not only connect with clients, rather create lasting relationships that help people reach their wellness goals.