In this interview, Josh discusses the importance of posture and female pulling strength with a theme of "Pulling into confidence."
Discover how pulling strength is an effective way to empower women in reversing poor breathing patterns, rejuvenating metabolism, and increasing confidence through pulling their own body's weight.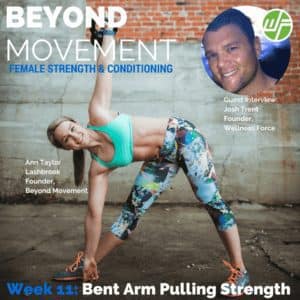 Ann Taylor Lashbrook has taught various forms of movement for over 10 years in the Los Angeles area before relocating to Louisville, Kentucky in 2013. She has accumulating 500+ hours of various yoga teacher trainings, a classical Pilates certification, nationally recognized personal training cert, and has studied other various specialized modalities. Since moving to Louisville she has taught over 20 successful workshops while continuing to grow her tribe of women in the south east. Currently she is leading women in a progressive strength training program she calls the Beyond Movement 90 Day Foundational Strength Training Program for Women.
Josh Trent, NASM CPT, CES, BCS is a wellness professional with over 10 years in the fitness industry. His passion is to empower people's lives through technology by utilizing digital health and quantified self as integrative health practices. You can follow him on Twitter @wellnessforce or through his website at www.wellnessforce.com.
Listen To Beyond Movement With Ann Taylor Lashbrook Week 11: Radio Interview