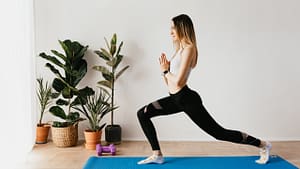 Whether you are a devoted weight lifter, a workout enthusiast, or a beginner, having a dependable setup to take on your beloved workout sessions at home is essential. While a home gym was once considered expensive, many people are now creating space in their residences and garages to work out.
There are numerous ways to stay fit without ever setting foot in a gym, ranging from simple dumbbells and yoga mats to high-tech fitness equipment. Here are some of the best physical wellness equipment investments you can make.
Treadmill
The treadmill is the best option for beginners looking to lose weight. Your workout space should have a treadmill with varying inclines, speeds, and heart rate monitoring because it is an excellent form of cardiovascular exercise.
It would be best if you tried buying one of horizons best selling treadmills. Not only are these treadmills affordable, but they also have a lot of valuable features. For instance, it has a zoned cushioning and a strong frame and folds up to reduce its footprint when it's not being used.
Jump Rope
Jump ropes get your heart rate up and provide an excellent cardiovascular workout. Furthermore, when the weather does not permit an outdoor stroll or jog, a jump rope can be considered to be a good cardio substitute.
If you want to incorporate jumping rope into your personal workout routine, you should buy a good, long-lasting jump rope. Buying a jump rope is not a significant investment, but you should splurge a little more to get a rope that is simple to adjust and uses ball bearings to connect the rope and the handle because ropes with bearings tend to last for a little longer than ropes with the end knotted in the handle.
Dumbbell Set
Dumbbell sets are one of the most multifunctional pieces of home fitness equipment because they can be used for nearly every single type of exercise. For example, you can use them for cardio or aerobic exercises and switch to explosive metabolism-boosting activities using heavier weights.
In addition, you can purchase a set of dumbbells ranging in weight from very light to extremely heavy, based on the individuals who will be utilizing them. Dumbbells are available in a wide range of shapes, sizes, and materials these days, ranging from colorful to plastic-coated to straight-up metal.
Mat
Mats provide such a layer of cushion for floor-based workouts like yoga, core strengthening, and stretching after a workout. While most yoga studios rent mats, purchasing your own is a worthwhile investment.
Investing in a high-quality yoga mat is essential, mainly if you use them frequently during your workout sessions. In addition, a good yoga mat is also essential for keeping your balance, maintaining proper posture, and ensuring you have enough space.
Adjustable Training Bench
It has a backrest that can be adjusted to accommodate a diverse range of exercises, allowing you to focus on toning specific muscles, increase performance, and attain faster results.
Furthermore, it is appropriate for beginners because the incline bench is ideal for learning proper breathing and posture before progressing to more challenging workouts. They are also foldable to some extent, allowing you to store them in a nook and roll them out when you're ready to exercise.
Resistance Bands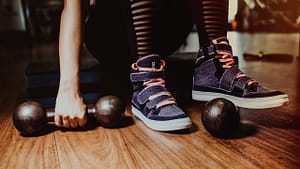 Resistance bands are great for individuals who want to exercise at home or take their workout sessions when they travel. These simple exercise tools have numerous benefits, including versatility, accessibility, safety, and efficiency.
Because resistance bands are a low-impact option available for weight training, they are also an excellent option for developing endurance for those who do not want to rely solely on free weights. One of the primary advantages of resistance bands over weight training is that it offers more exercise variety.
Stationary Bicycle
Riding a stationary exercise bike is a great way to  body fat and burn calories while also trying to strengthen your lungs, heart, and muscles. A stationary bicycle with magnetic resistance puts less strain on your joints than other cardio equipment, but it still gives you an excellent aerobic workout.
One of the reasons to buy an excellent stationary exercise bike is that it provides all of these benefits in such a compact package. Compared to some of the larger and bulkier home gym equipment on the market, having something that takes up only a small portion of the floor space is a huge benefit.
Exercise Ball
Exercise balls are colorful items that provide a unique and entertaining way to exercise while doing other things. Furthermore, they are much easier to transport and carry around than other types of exercise equipment.
You can use these balls in combination with weights to assist and support you in strengthening your core. You can also use these balls to help stabilize your core while sitting at your desk or even when you are watching television.
Final Thoughts
With your packed schedules, it can be not easy to find the opportunity to exercise regularly, especially going to the gym, as it can take up a lot of time just getting there. So, if you tend to avoid going to gyms to work out, a good alternative is buying good workout equipment is an excellent investment for your home gym.