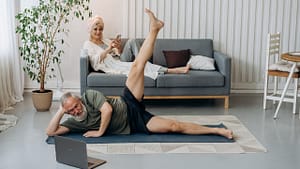 Cognitive abilities decline as people age. While we can develop many abilities, they tend to peak around age 30 on average. Some examples of age-related declines are multitasking, word-finding, slow thinking process, short-term memory, and forgetfulness.
Cognitive decline is specifically common to the elderly, especially those who have Alzheimer's or other forms of dementia. Studies have shown that adults with cognitive decline are likely to have slower gait speed and increased mobility disability, leading to reduced quality of life.
The good news is that there are ways seniors can alleviate the harmful impact of cognitive decline. One of these is called "reminiscing therapy." This treatment benefits older adults who can still hold onto their cherished past recollections.
Definition of Reminiscing Therapy
As its name implies, reminiscence therapy (RT) is a treatment that helps older adults remember both their short- and long-term memories. Its sessions vary in structure, but they often involve all the five basic human senses. Common sessions can be as simple as having conversations with family members, caregivers, or therapists.
For more structured and complex sessions, therapists usually include activities that help the elderly indulge in creative memory-making processes. Examples of such activities are watching screen legends, doing art forms, playing instruments, or using memory boxes.
Several assisted living and memory care communities subtly integrate reminiscence therapy inside their facilities. For example, they may intentionally opt for the 50s to 60s interior design to prompt residents who were born in these periods to be immersed in their youth, which can improve their memory recall.
Types of Reminiscing
Overall, there are six types of reminiscences. These include the following:
Obsessive (focuses on past adverse events);
Escapist (known as the coping mechanism for past hardships);
Narrative (narrates past lives, but no awareness of others and one's self);
Transmissive (shares meaningful things that are good for one's well-being)
Instrumental (shares past problems and potential solutions)
Integrative (contrasts reality and ideals)
Studies have shown that instrumental and integrative reminiscences benefit older adults the most. The other ones don't necessarily confer any advantages. In the worst cases, older adults could suffer from them, both physically and mentally.
Benefits of Reminiscing Therapy
Reminiscing therapy can improve the following in the elderly:
1. Cognitive Function
As mentioned, older adults will try to recall their memories during reminiscence therapy. Doing so requires them to work out their brain muscles. When consistently done, it can improve their memory and mental focus, reducing the risks of getting lost or wandering, which are common in the elderly.
2. Communicative Abilities
Exercising their brain muscles by remembering the past can also improve their speaking abilities. Additionally, telling their past stories during the session or with other seniors can also improve their social interactions.
3. Emotional Health
Reminiscence therapy can alleviate symptoms of depression that are very common in the elderly. Allowing them to share their fond memories increases their level of serotonin, one of our happy hormones. Further, recent research shows that talking to them improves their moods and could also take them out of immobility and bedriddenness.
4. Physical Health
Our kidneys, adrenal glands, blood, blood vessels, heart, and brain are all associated with our happy hormones and blood pressure. Hence, if elders can improve their serotonin levels through social interaction and reminiscing, their blood pressure can likely be regulated.
5. Social Well-being
When seniors recreate and talk about their life's meaning and successes, it can eventually reaffirm their self-worth and boost their confidence. Additionally, when they're immersed in reflecting on their past accomplishments, they're less likely to get less anxious.
Living in and/or participating in Assisted Living and Memory Care Communities can help tremendously.
Medicare Coverage for Reminiscing Therapy
Medicare covers inpatient stays, diagnostic tests, and doctors' fees for dementia patients aged 65 or older. It also covers home health care of dementia patients, which may include reminiscence therapy. Medicare has even special needs plans that are specifically geared toward dementia. However, Medicare only covers some of the Dementia-associated costs.
In addition, it doesn't cover long-term dementia care services, such as expenses for an assisted living facility. Typically, it only includes Part A (hospital insurance) and Part B (medical insurance).
If you want all-inclusive coverage for your old loved ones, consider Medicare Advantage (MA) or Medicare Part C. It's typically offered by private insurers. Unlike the original Medicare, MA plans may include Part A, Part B, and even Part D (drug plan).
There are various kinds of MA plans, so it's best to seek professional advice. But to give you a quick overview, here's how to compare Medicare Advantage plans:
Identify the benefits you need;
Choose the network type;
Take note of plan costs and your budget;
Consider local plan options;
Check the plan's star rating and overall reputation;
Compare your top MA plan choices; and
Enroll in your desired MA plan.
Final Thoughts
Reminiscence therapy is among the most effective, cost-efficient approaches to helping older adults. It doesn't only improve their cognitive abilities but also their sense of belongingness and optimal well-being.
If you have any older people in your family and suffering from dementia, you can visit ArabiaMD and Choose the Best Doctor in Dubai for treatment.